Boy meets beer, boy likes beer, boy homebrews beer, boy gains experience in Belgium, boy does a Kickstarter, boy wins bigtime. And by "boy", I mean, uh, two guys: Beejay Oslon and Gerrit Lewis. Another class of 2012 brewer… in fact, according to RateBeer, they were the best new brewery in the world last year (nudging out, of all breweries, Tired Hands, which came in #2). So big deal, right? Well, considering that there were over 1900 new breweries in the world last year, that actually is a pretty sweet deal.
Last week, Tired Hands got a cease and desist order on the name of one of their two staple beers. Brewery Vivant makes a beer called Farm Hand and sought to protect their trademark from Tired Hands' FarmHands. This legal wrangling is a topic I should probably write more about at some point, but seeing as though this is a post about Pipeworks, I'll just get to the point:
Currently brewing our newest beer! The Lights That Spills Outs of the Holes in your Heads! Plural is all good yo. @tiredhandsbeer

— Pipeworks Brewing Co (@PipeworksBrewin) September 3, 2013
This is, of course, a reference to one of Tired Hands' absurdly named beers (The Light That Spills Out of the Hole In your Head), and that tweet immediately endeared me to Pipeworks. Other breweries pitched in and made amusing suggestions as well (including Hill Farmstead, Sante Adairius, Prairie, and others), but me, I was just glad that a box filled with Chicago goodies (including Pipeworks) was already on its way to my house. A few days later, I rejoiced and popped open my first Pipeworks beer.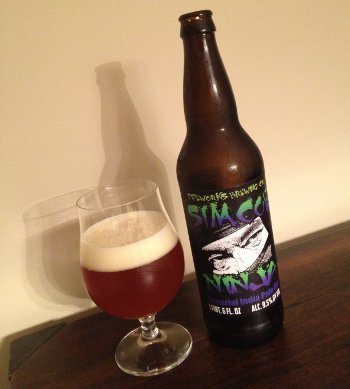 Pipeworks Simcoe Ninja – Pours a surprisingly dark amber orange color with a finger or tow of fluffy white head and a nice lacing pattern as I drink. Smells fantastic, sugary sweet, with lots of fruity, pineapple hop character. Taste has that big citrus and pine hop character, but also a solid malt backbone and a well balanced bitterness towards the finish. The notion of a west coast IPA is a bit nebulous, but this is NOT a West Coast IPA. Very East Coast stuff here, which is fine by me (I'm reminded of Weyerbacher's Double Simcoe, though this is better). Mouthfeel is medium to full bodied, but very crisply carbonated. Maybe just a bit of boozy stickiness in the swish. Not a chuggable beer or anything, but it's not a sipper either. I'm not getting a lot of booze out of this either, which is impressive given the 9.5% ABV. Overall, I haven't had something I'd call an East Coast IPA that was this good in a while. Really great stuff, worth seeking out. A-
Beer Nerd Details: 9.5% ABV bottled (22 oz. bomber). Drank out of a tulip glass on 9/6/13. Batch #192, bottled 8.22.13.
So yes, moar Pipeworks please. I've got another bottle in the fridge, just raring to go. Stay tuned!