Evolution sez that the Menagerie series is comprised of one-off brews that will "probably" never be seen again. Each entry in the series is different and numbered sequentially, with most also featuring some sort of barrel aging and blending (except when it's not). Their website sez that #8 is the latest one, but I feel like I've been seeing it pop up again this year. Has this been brewed again? Or maybe the bottles are just well aged. Not that I'm complaining, as this Belgian Strong Dark aged in Red Wine Barrels (not for souring purposes) is right up my alley and since I've been overloading on IPAs of late, this was a welcome change of pace. Rev up that Star Trek episode and prepare for court martial: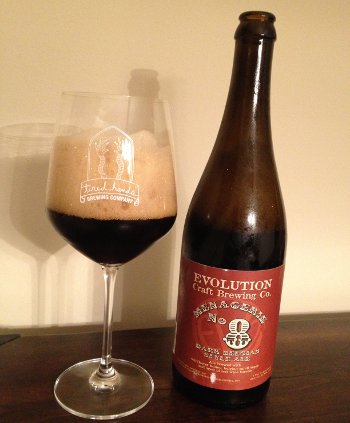 Evolution Menagerie #8 – Pours a deep, dark brown, with massive amounts of tan head. Smells of Belgian yeast, lots of spiciness, clove and the like, with some fruitiness showing up too. Maybe even some oak and vinous character as well. Really great nose here. That red wine barrel comes through much more in the taste, which hits those notes hard without reaching towards sour. There is a nice fruitiness to it, some molasses-like sweetness, maybe even some chocolate (a nice match for the fruity notes), and plenty of spice up front, with the wine character reasserting itself in the finish. Mouthfeeel is highly carbonated and dry, making this feel lighter than it is. The alcohol is very well hidden, and you only really feel it as it warms your belly (because it is very easy to drink too quickly…) In the past, I've found that non-sour barrel-aged Belgian styles were sorta hit or miss. I'm happy to report that's not the case with this beer. I'm putting it somewhere in the A- range, though it's a borderline affair…
Beer Nerd Details: 9.5% ABV bottled (750 ml capped). Drank out of a Tired Hands glass on 9/14/13.
Another solid showing from Evolution, and I naturally need to check out more of their Menagerie series (if they continue!) and their Migration series (I'd definitely like to retry the Winter Migration at some point, but they all sound interesting enough)…