Another day, another revolutionary (pun intended!) brewery that's only opened their doors in the past few years. This is going to come up again this week (a couple of times, actually), but let's stay in Chicago for the moment and check out Revolution brewing. They opened a small brewpub in 2010, quickly garnering a fair amount of praise (including a top 5 slot in RateBeer's Top New Brewers in the World list), expanded in 2011, and opened a full production brewery in 2012. I'm never sure what to make of the whole socialist fist iconography when it comes to breweries (maybe they just like the act of fistin… you know what, I'm just going to stop myself right there and pretend like I didn't even bring this up).
So I was particularly interested in their barrel aged brews, but this is exactly the wrong time of year for that sort of thing (I'm penciling in a Winter trade for some of that excellence), so I had to settle for a few standard brews. This one is actually a Spring seasonal, so it's a bit long in the tooth (especially for a well hopped beer), but the Belgian side of things kept it in check I think. So let's get a little crazy: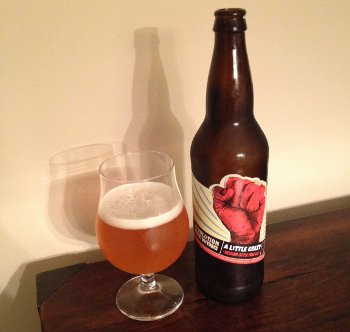 Revolution A Little Crazy – Pours a bright, slightly hazy golden color with a finger of fluffy, eggshell white head. Smells lightly of Belgian yeast, with a heavy hop component. Lots of citrus rind and floral notes, maybe even a bit of tart twang. Taste starts off spicy and hoppy, but then a huge, juicy, tart citrus note pops out, with just a hint of balancing bitterness in the finish. It's a really strange sensation, perhaps belying its age, but it works well enough. Mouthfeel is well carbonated and spicy, but that citrus note has a bright juicy tartness to it that follows through the finish. To make the most obscure comparison possible, this reminds me of Boxcar Brewing's IPA, which doesn't quite have that pop of citrus and tartness, but the Belgian yeast and hops give it a similar feel. Overall, this is a really strange brew. Not bad at all, I rather like it, but strange nonetheless. B
Beer Nerd Details: 6.4% ABV bottled (22 oz. bomber). Drank out of a tulip glass on 9/21/13.
I also had their Oktoberfest, which was a really solid take on the style, but then, I'm not that big into that style, so I didn't write up any detailed notes. I've got their standard IPA in the fridge, but I'm not expecting a ton from that either. I'm still really curious to see how their barrel aged brews fare, as I've heard really good things about them.