The use of smoked malt in beer is often described as imparting a spicy, smoked meat character, almost like bacon. Most of the time, I end up wondering who put their cigar out in my beer, but in rare instances, that meaty bacon flavor actually seems like a real thing. In the case of Porcine Unidragon, those Clown Shoes guys have taken their rather burly Blaecorn Unidragon imperial stout, added a small dose of smoked malt, then aged the whole thing in bourbon barrels. Truth be told, they'd probably be better off calling this Bourbon Unidragon, as I don't really get much in the way of smoke out of this. Not that I'm complaining, because, you know, Bourbon! Lace up your Clown Shoes and get down: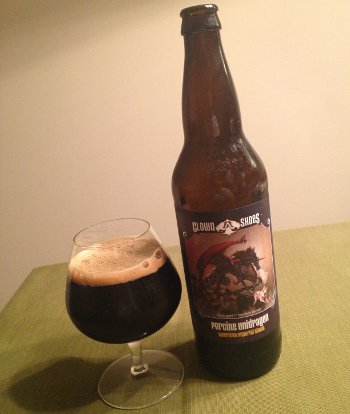 Clown Shoes Porcine Unidragon – Pours a very dark brown color with a finger of light brown head. Smells of roasted malt with some chocolate, caramel, vanilla and just a hint of bourbon. Taste again features a heavy roasted malt element (perhaps that smoke too, but it's a light touch and I don't get any porcine notes) with a bourbon kicker in the middle, a little chocolate, caramel, vanilla and oak, and that roast returning in the finish. Mouthfeel is full bodied, moderate carbonation, lots of boozy heat, and just a hint of richness. So it's retained the base beer's attributes whilst adding in a welcome dose of bourbon and oak. It's not quite perfectly integrated, but it's an improvement over the base. As it warms up, it starts to come together better. Or I'm just getting drunk here. Overall, a little unbalanced, but a really solid beer. I'll slap a B+ on it, but I do think I enjoy this more than the base (which got the same rating).
Beer Nerd Details: 12.5% ABV bottled (22 oz. bomber). Drank out of a snifter on 8/2/13. Bottled 4/17/13.
It's a good beer, easy to find, and dirt cheap for what it is (where else can you find a sub-$10 bourbon barrel stout that clocks in at 12.5% ABV?) I still wouldn't call myself a Clown Shoes fan, but these imperial stouts I've been having from them have been pretty good…