Flying Fish is New Jersey's largest brewery and, for some reason, they are very proud to be located in the Garden State (I kid because I love). So when Hurricane (sorry, superstorm) Sandy produced severe damage throughout the great state, Flying Fish decided to do their part and brew up a special batch of beer whose proceeds (note: the entire proceeds, not just profit) would go entirely to charities that were rebuilding the damaged areas. They named it Forever Unloved Sandy, basically just so they could abbreviate it as F.U. Sandy. A sorta hybrid pale wheat ale, it was made with ADHA 483, an experimental hop never before used in a commercial beer. It was only available on tap at first, but it proved popular enough to warrant a bottling, which I happily snapped up: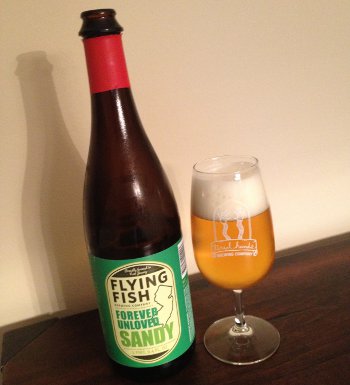 Flying Fish Forever Unloved (FU) Sandy – Pours a pale golden yellow color with a few fingers of fluffy white head and great retention. Smells strongly of grassy citrus hops, but not quite the typical citrus, which is a nice change of pace. A little wheat shows up in the nose as well. Taste is full of that grassy citrus hop character, starting with a nice sweetness that quickly yields to hop bitterness. Again, wheat pokes out towards the finish, but is not a dominant flavor. Mouthfeel is medium bodied, well carbonated, and somewhat dry in the bitter finish. Overall, a very solid, interesting brew. It's not quite playing in the big leagues of hoppy beer, but it's got that experimental hop uniqueness going for it and is certainly worth a shot. B+
Beer Nerd Details: 6.2% ABV bottled (750 ml capped). Drank out of a flute on 8/2/13.
Flying Fish remains a brewery I need to become better acquainted with, especially their Exit series (of the ones I've had, they're pretty darn good).