The Bruery's Anniversary beers have become an annual tradition around here at Kaedrin (see Coton, the second anniversary beer, for more on why this is so). Each beer is based off an old ale recipe that is blended with previous batches using the Solera method. Initial offerings were blends of barrel aged and young beer, but the last couple have been 100% barrel aged.
The names of the beers follow along with the French translation of traditional wedding anniversary gifts. Bois is French for "Wood" and I believe it's pronounced *Inception Horns*. Hard to believe it's only been 5 years since The Bruery popped up and started melting faces.
So I buy one of these every year, but clocking in at 15% ABV and packaged only in 750 ml bottles, it's a big beer and not exactly an everyday thing. Let's make this a week of stupid memes and continue my lame Inception joke at the same time: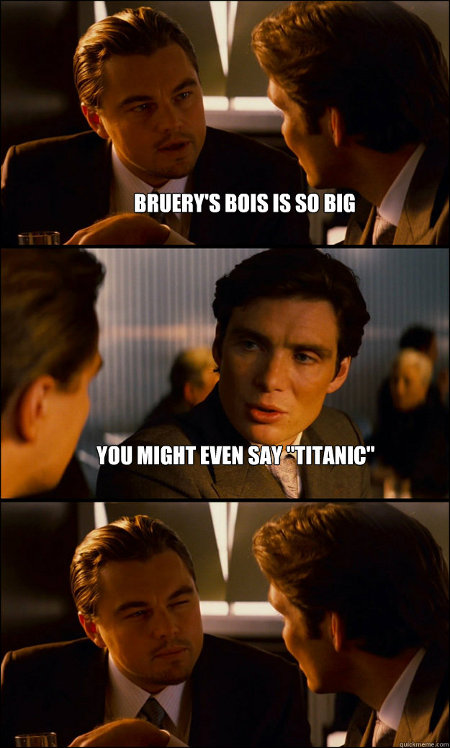 We need to go deeper. It's funny, but the dream within a dream structure sorta matches the beer within a beer Solera method thing going on with these Anniversary beers. Or I'm full of shit (or a piece of shit, full of shit?) Alrighty then, let's get incepted by some monster beer: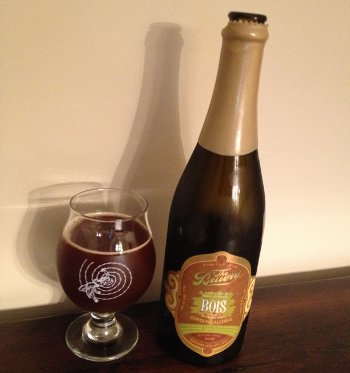 The Bruery Bois – Pours a viscous, deep, murky brown color with just a cap of light tan head. Smells strongly of Bourbon, vanilla, and oak, lots of booze, with some sugary fruit notes creeping around too. Taste is full of rich caramel, sticky toffee, and dark fruits (raisins, plums, and so forth), with a big wallop of boozy bourbon, vanilla, and oak. Very complex, evolving as it warms. Mouthfeel is thick and syrupy, very rich, with enough carbonation to cut the sweetness, but still very smooth. A heaping helping of booze burn and a nice warming as you drink too (even if you drink slowly). It would be difficult to call this balanced, but it's my kinda unbalanced (others will certainly find it too rich), and the barrel aging is very well done. Overall, it's spectacular and I love it. A
Beer Nerd Details: 15% ABV bottled (750 ml capped and waxed). Drank out of a Only Void snifter on 6/29/13. Bottled 4/10/13.
This was the standard Bourbon barrel offering, but to mark their 5th year, The Bruery did some next level aging in other kinds of barrels like Brandy, Rye, and new American and French Oak. Alas, those variants aren't getting distributed beyond the brewery and some are only available to their society members. We'll just have to make due with Bourbon, I guess.