The Alchemist is a tiny little brewpub in Waterbury, Vermont. Yeah, you know what that means, right? They've been around since 2003, but their notoriety has gone through the roof in the past few years due to their flagship (and, for the most part, only commercially available) beer Heady Topper. Back in 2011, their brewpub was destroyed by Hurricane Irene just days before their cannery went online (the cannery was luckily spared from the devastation). Already a well respected brew, once Heady hit cans, its reputation exploded. Even today, The Alchemist supposedly can't produce enough of the stuff. I've heard tell of small caches of these suckers making their way to Boston and Philly, but that seems to happen rarely. Somehow, I managed to get my hands on a few cans (my purveyor wishes to remain anonymous, but I'm very grateful).
On BeerAdvocate, it's the number one rated beer on the planet (those nutbars over at RateBeer are more sanguine, placing it at 31), which has, of course, only fueled the hype. I'm guessing at least part of the reason this stuff is so well regarded is that almost everyone is drinking it fresh. It comes packaged in a rather beautiful looking can that is, well, quite pushy. It orders you to "Drink from the can!" (and it also sez "Don't be a D-Bag, recycle this can!") Head Brewer John Kimmich sez that pouring it into a glass is all well and good, but it releases a lot of "essential hop aromas" which smells nice at first, but fades quicker than if you drink from the can. The idea is that the can has a little protective layer of carbon dioxide that keeps those aromas sealed in. Well fine then, when I cracked my first, I drank it straight from the can, as ordered (the notes below were mostly compiled during this first taste):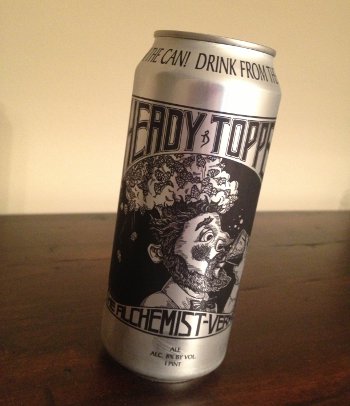 The big problem I have here is that beers like this really make me want to smell what's going on. Does this protective layer of carbon dioxide work if I keep sticking my nose into the can and huffing? Can't resist a beer that smells this good. It actually worked well enough at the beginning of the can, but as I got towards the bottom, that aroma was more difficult to come by. Curious, I tried rebellion with my next can, and poured it out: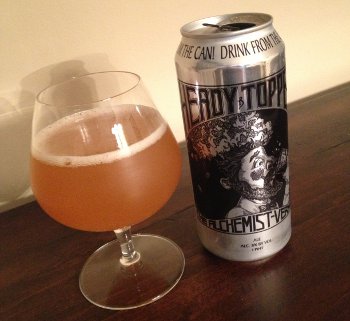 The Alchemist Heady Topper – Pours an, um, aluminum can color, with black highlights. Yeah. (Ok, so when I poured one out, it's got a hazy orange glow thing going on, nice heady head too.) Holy grapefruit, Batman! I was worried about sticking my nose in the can, but just cracking this open resulted in a waft of pure hop grapefruit, oranges, and other assorted citrus aromas. Alas, as I drink, the aroma is harder to get at. The perils of drinking direct from the can, I guess. Taste his those same big grapefruit and orange notes, fruity, juicy citrus hops all the way. It's sweet up front, but a nice counterbalancing bitterness emerges in the middle and lasts through the finish. Taste evolves a little dank pineapple towards the bottom of the can. Mouthfeel is smooth and almost creamy, finishing with that crisp bitterness. It's got a nice quenching feeling, too. Not even a hint of booze. Overall, yep, this is one spectacular beer, melting faces and playing with the big boys at Hill Farmstead and Tired Hands (and probably some of them west coast folks I haven't wrangled yet, like Alpine or Kern River). A
Beer Nerd Details: 8% ABV canned (16 ounce pounder). Drank out of the can, like a man. (Or a snifter).
So yeah, this is the real deal (and I ain't the only one who thinks so: Jay, Ed, DDB, Dave, and Rich all seem to love the stuff). They do make other beers on occasion (and I even had the good fortune to try their most excellent collaboration with Hill Farmstead, a 4% "blonde" called Walden, which was kinda like Heady's even more drinkable little brother), but this one alone is worth the stretch. That trip to Vermont is getting more attractive by the moment.