You know the drill: a bunch of beer-minded colleagues and I get together at a local BYOB and drink our faces off. A low turnout this month due to scheduling, but still good times. I was negligent and forgot to take a picture of the beers on offer, so I made this fancy artist's rendering in MS Paint: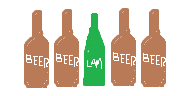 I think I may have missed my calling. For the sake of posterity, some half-remembered notes are recorded below. You're welcome.
The Captain's Invisible Moon – Which, if named after the style, would be "The Captain's Cream Ale", which just sounds gross. Unless you're a big Chris Evans fan. Like, a really big fan. Oh yeah, the beer. A homebrewed cream ale, it came out pretty well, kinda like a wheat beer, but with that smooth texture of a cream ale. Really easy drinking and a good way to start the night.
Brewer's Art Ozzy Ale – Nice Belgian yeast character, lots of spice (clove) and again, pretty easy drinking. It's a perfectly cromulent beer, but nothing to go nuts over. B
Boulevard Coffee Ale – This was one of those beers I got from the BIF trade, but since I wasn't a big coffee guy, I figured I'd share it with some people who might appreciate it a bit more. The coffee wasn't overwhelming at all, which is nice, especially since this isn't a stout either. Lots of malt character with that coffee taking a prominent place. It's not really my thing at all, but I was glad I got to share it (even though, uh, it seemed that a most beer club peeps were also not coffee people either). C+
Lagunitas Undercover Investigation Shut-Down Ale – I have actually had this before (and incorporated it into my Choose Your Own Adventure Beer Review epic), and in this setting, it stood out pretty darn well. I could probably be tempted to upgrade the rating, but I'll leave it at a B for now.
Oude Gueuze Tilquin à l'Ancienne – This is the green bottle in the artist's rendering above! One of my other contributions of the night, this one is every bit as good as I remember, and compares favorable with the big boys at Cantillon and 3F (at least, when it comes to their regular lineup). Still an A- in my book.
Dark Horse Tres Blueberry Stout – Another of my contributions, I actually bought a Dark Horse variety pack a while back, and since Dark Horse apparently loves to make stouts, they have a sorta numbered series of beers, this being the third. It's got a big blueberry aroma and even a little taste, but it doesn't feel artificial either, which actually kinda works. B
Boulevard Love Child No. 3 – Label sez it's aged in bourbon barrels, but I should have inspected more closely, because this sucker is actually a wild ale. A malt-forward base with some very tart, sour notes that hit quickly, but fade towards the finish, making this a pretty darn good drink. Decent funk, actually one of my favorites of the night. A-
John Henry West Indies Pale Ale – A pale ale aged on rum oak spirals… I would have expected that boozy rum to dominate, but it doesn't. Unfortunately, it doesn't really add much either. I feel like the rum and oak sorta fought the hops, sorta canceling each other out. What we're left with is fine, I guess, but not as flavorful as you might think. B-
Dark Horse Too Cream Stout – Another of Dark Horse's stout lineup, this one is a milk stout. Smooth, but big and burly, it's a bit of a bear, but it actually acquitted itself really well considering it was the last beer we opened. B
Well, there you have it. We'll return to normal review blogging for the next few days. It is actually Philly Beer Week, so I should probably hit up some other places this weekend and write about a few things I've already seen. Or something.