Though this Texas brewery has only been open since 2004, it has roots dating back to 1847. William Rahr was one of many German immigrants who brought their love of beer to the new world. After he, uh, fell into a brew kettle and died, his sons carried on the tradition for a while, renaming the brewery William Rahr's Sons Co. I'm not really sure what happened to that brewery (to hazard a guess: prohibition), but Rahr's malt business has continuously operated since 1847 and supplies a large portion of the brewing industry. I don't think that has anything to do with the new Texas operation, but it's always neat to find old-school U.S. brewing institutions.
Anywho, this is a Winter Warmer style beer aged in bourbon barrels for 10 weeks. A short stay, to be sure, but then, Winter Warmers probably can't stand up to super-long durations like a gigantic stout or barleywine, so maybe that's for the best. Let's find out, shall we?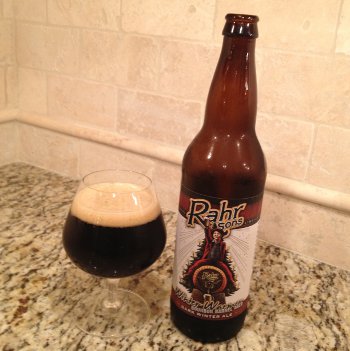 Rahr & Sons Bourbon Barrel Aged Winter Warmer – Pours a very dark brown color with off white head. Smells of chalky malts, not quite roasty, but dark malts, along with some spice, as befits the Winter Warmer style. Not really detecting much in the way of Bourbon Barrel action in the nose though. Taste is sweet with lots of common winter mulling spices, ginger, cinnamon, and the like. The bourbon comes out in the taste, a little boozy, with those roasted malts coming through in the finish. Not quite as harmonious as I'd like, but it's decent. Mouthfeel is well carbonated, spicy, a little chalky, medium bodied. Overall, a solid brew, not mindblowing and it could use a little more balance, but I'm glad I got to try some. B
Beer Nerd Details: 8.5% ABV bottled (22 oz. bomber). Drank out of a snifter on 5/24/13. Bottled Winter 2012.
I've got another big Rahr & Sons brew in the cellar right now, though I'm not sure when I'll break that sucker out… perhaps the next beer club!