So this past weekend was what we call Fat Weekend, a gathering of portly gentlemen from all over the Northeast (we're actually not that chubby, but as we like to say, fat is a state of mind). I don't get to see these guys that often, so it was a fantastic time, but you know, not much in the way of note-taking went on this weekend. I'm not a monster. Although I did unleash my Fat Weekend IPA homebrew on my friends, and it seemed to go over smashingly well (as evidenced by the fact that they drank it all and were asking for more). Again, no notes, so I'll try to do a more detailed tasting at some point (short story: super dank, piney, resinous, a little on the overcarbonated side, but very good). I did have a ton of different Sam Adams beers throughout the weekend (was pretty happy with the IPL, not so much with Maple Pecan Porter, and there were a bunch of others that I don't remember), but also some more beer nerdistic stuff like Rye Rebellion (not as whiskey forward as I remember, but still good) and Insanity (still very nice). Victory's Swing Session Saison was also a solid way to pace myself, considering the weekend-long session…
Another big highlight was the Apple Pie Moonshine, distilled by my buddy up in the boonies of CT. Clocking in at 70 proof, this stuff was dangerously drinkable and tasted just like apple pie. Fortunately/unfortunately (depending on your perspective), we only had one mason jar of the stuff, so I am still alive.
Imitation Solo cups: pure class. Once that was done, we hit up the uncut 'shine, which was 140 proof and… yeah, not quite as drinkable, though it made a nice additive in mixed drinkland. Speaking of which, this being Fat Weekend, someone also brought a bottle of Bakon… yep, bacon flavored vodka ("Pure. Refreshing. Bacon.") It was heinous. You're apparently not supposed to drink it straight up. We speculate that it might work in a Bloody Mary, but were too drunk to go out and buy necessary components. And quite frankly, we didn't care. It was the thought that counted, you know? Yeah, so a fantastic weekend full of booze and food and laughter (and somewhere in the middle there, a fantasy baseball draft), already looking forward to next year.
I had taken today off to recuperate, but a friend cajoled me into this year's local Pliny the Younger tapping… It was at the same place I had it last year (and my thoughts on the beer haven't changed much), but it was a much more annoying event. Last year, they opened at 10 and tapped Pliny at 12. If you got there early, they gave you a ticket and you could grab a seat and a bite to eat. It got crowded a little before they tapped it, but it was otherwise a pretty calm and enjoyable event. This year, they didn't open early and there was a line outside and once we got in there was basically a clusterfuck of crowds at the bar trying to get their allocation. No one was throwing elbows or anything, and everyone was actually pretty cool, but still. If I wasn't accompanying someone, I probably wouldn't have made the effort. On the other hand, I do really enjoy this stuff: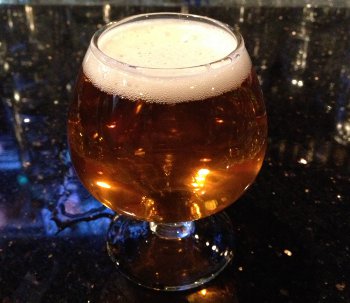 Also got myself some more Angel's Share and Sour in the Rye, which was nice. So a long, good weekend here. Hope yours was too.