I've heard a lot about Cascade Brewing out of Oregon, but I'd always figured them for one of those breweries I'd never actually see (except maybe in a trade, now that I've popped that cherry). They apparently do a brisk business selling beer online, but because PA has the dumbest beer laws ever, they do not ship here. Fortunately for me, bottles have started to show up in the Philly area through regular distribution channels, which is a very welcome development. I picked up this Kriek a few weeks ago and will now be keeping an eye out for their other "regular" beers… And at this point, I might need to orchestrate a shipment of Cascade beer to some readily accessible Delaware residence, cause this stuff is just great.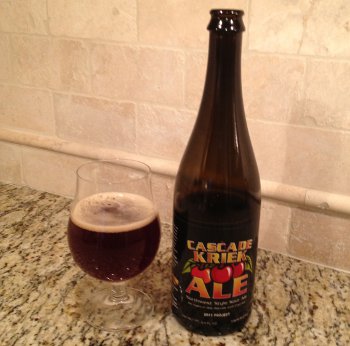 Cascade Kriek Ale 2011 – Pours a clear dark red color, and yes, robey tones, with a finger of light colored head with the faintest whisper of pink (faint enough that I wondered if I was imagining it). Smells sweet with that sour twang, lactic, a little oak. Taste is sweet, lots of sour cherry flavors, and a moderate amount of oak character comes on in the finish. Very pleasant lactic tartness with those cherries, and maybe a bit of funk too. Mouthfeel is perfect. Well carbonated, medium bodied, with a certain richness afforded by that barrel aging, but extremely well balanced. A little sticky, the aftertaste lingers for a bit, which works well for this. Overall, above average Flanders Red stuff here. Perhaps not at the very tippy top of the heap, but a worthy competitor! A-
Beer Nerd Details: 7.62% ABV bottled (750 ml caged and corked). Drank out of a tulip glass on 3/22/13. Label sez: 2011 Project.
Alright, so riddle me this: the name of the beer is Kriek, but this isn't spotaneously fermented lambic. Cascade also calls it a Northwest Style Sour Ale, which to me means that it would fall under that American Wild Ale category… but then BA has it as a Flanders Red Ale (which, actually, works well enough I guess, as this fits well with that style). I know, whatever, who cares, this is just great beer and yes, I'll be getting more from them and am I still writing? I should stop now and start masterminding the great beer heist of 2013 (yeah, this is a grandiose description of ordering beer online, but work with me here).
Update: Ah crap, they don't ship to Delaware or even New Jersey, which pretty severely limits my options. I guess it's left to trades then.