The label sez this is "An Eschatological ale", which sounds gross, but is actually about the study of the end of the world. I guess I need to get my mind out of the gutter this week. Anywho, this is yet another ale brewed in honor/mockery of the overplayed Mayan calendar thing last year, and I suppose the Belgian Strong Pale Ale style is, for some odd reason, commonly used for such apocalyptic themes. La Fin Du Monde ("The End of the World"), "Duvel" (a "Devil" of a beer), and so on. Of course, that puts this up against some pretty stiff competition, so let's see how it holds up: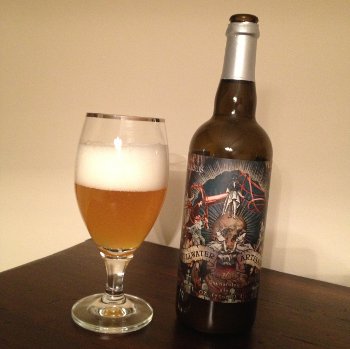 Stillwater As Follows – Pours a cloudy straw yellow color with massive amounts of fluffy white head and high retention. Smells sweet and spicy, pure Belgian yeast, some biscuity notes, perhaps even some orange peel. Taste also starts sweet and spicy, actually lots of spice, white pepper, coriander, clove, and the like, some earthy hop presence emerging in the middle, finishing dry. Mouthfeel is highly carbonated, crisp, refreshing, and again, finishing dry. Would make a great palate cleanser for meals. Overall, a wonderful Belgian style pale ale, well balanced and complex, this could stand toe to toe with the best Belgium has to offer. A-
Beer Nerd Details: 9% ABV bottled (750 ml capped). Drank out of a goblet on 2/9/13.
Stillwater hasn't wowed me with my last few samples, so this one was a welcome return to form. I don't have any additional Stillwater in the immediate pipeline, but being basically MD based, I can usually get a crack at their new stuff. Particularly interested in trying more of their barrel aged series, even if my experience with them so far hasn't been all that great…