Capricho Oscuro means "Dark Whim" and it's a series of barrel-aged, blended beers Cigar City put out once a year. What we've got here is Batch #3, released in 2009, and it's comprised of three Cigar City mainstays (Bolita Double Nut Brown Ale, Big Sound Scotch Ale, and Improvisacion Oatmeal Rye India-Style Brown Ale), blended "to perfection" (their words) and aged in Makers Mark barrels. Best-brewer-name-ever Wayne Wambles sez that this batch was meant to age a bit longer than other batches, as he wanted big barrel notes. Did he succeed? There is only one way to find out! This vintage, brewery-only, limited release comes to me by way of Dave, the proprietor of the most excellent Drunken Polack blog, so big thanks are owed to him!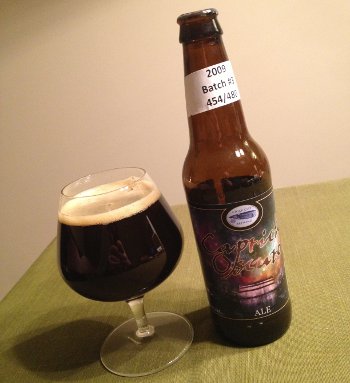 Cigar City Capricho Oscuro – Batch 3 – Pours a dark brown color with a finger of quickly subsiding tan head. Smells of bourbon, oak, vanilla, and fruity malts (that Scotch ale character is coming through)… Taste is very sweet, big malt backbone, light toasted malt, with that oaky bourbon vanilla emerging towards the finish. As it warms, the bourbon asserts itself even more. Complex flavors, perhaps showing its age and not as well balanced as it could be, but on the other hand, it's still really damn tasty. Mouthfeel is full bodied, well carbonated, not really dry, but no stickiness either. For a big, barrel-aged blend, this is going down pretty easy. Some pleasant warming from the alcohol, which I'm guessing is in the 9-10% range. Overall, a really good beer that I suspect was better when fresh, but has held up remarkably well. B+
Beer Nerd Details: Unknown ABV (Kaedrin SWAG estimate: 9% ABV) bottled (12 oz). Drank out of a snifter on 2/9/13. Bottled 2009, Batch #3, Bottle 454/480.
Dave sent me a whole box of goodies, so be on the lookout for some more obscure brews coming soon, including some more Cigar City. Super excited about some of those brews!