Ticking another top 100 coffee-based imperial stout, though this one is definitely more my speed than most, as the coffee adds complexity without being too prominent. Trolling Alesmith's Beer Advocate page reveals that there are over 20 variations on this beer, some using different varieties of coffee (including the dreaded weasel poop coffee, Kopi Luwak), many aged in bourbon barrels (amongst other spirits barrels), and some really weird ones with shit like Pistachios or Spearmint.
What I've got here is the regular, widely-available version, brewed with fancy Ryan Bros. coffee, featuring the silkscreen bottle and silver foil wrapping. Newer bottles seem to have a grey/black color in the wrap, so I'm not sure what's up (and I'm pretty sure this dude on BA who suggests that "The silver foil contained a substance that, when heated sufficiently and ground to powder, could be used for the mass production of meth" is just a wiseass). Regardless, this is a beer to seek out, and if you ever see those barrel aged variants, buy two, drink one, and send me the other (though I'm pretty sure you're more likely to drink both once you realize how awesome it is…)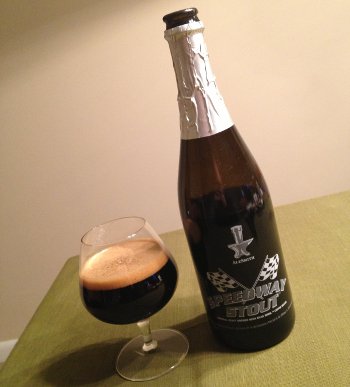 Alesmith Speedway Stout – Pours a thick, very dark brown, almost black color with a finger of light brown, creamy looking head that has great retention and leaves tons of spotty lacing as I drink. Smells of rich, dark crystal malts, a little roast and some coffee notes too, but they're in the background. Taste starts with those sweet, rich caramel flavors, quickly moving into a light roasty flavor, not much in the way of coffee at all, perhaps some chocolate showing up in its place. There's a nice hoppy component as well, with some resinous notes showing up and even a slight bitterness that goes well with the roast and chocolate character. Some hot booze shows up in the taste as well. Mouthfeel is rich and chewy, full bodied, a little alcohol burn in the mouth followed by the warming sensation in the belly. Overall, I can see why this is a prized brew and would love to try, well, just about any of the variants (of which there are many). A-
Beer Nerd Details: 12% ABV bottled (750 ml). Drank out of a snifter on 1/27/13.
Alesmith is truly awesome, I'm going to have to find a way to get ahold of some of their barrel aged stuff. In the meantime, I'll have to settle for their standard lineup… which is still pretty awesome.