Half Acre is one of them hyped up Chicago breweries, but the "Half Acre" in question actually "resides along the banks of the Delaware River in eastern PA". The Chicagoans who run Half Acre actually grew up right outside Philadelphia, which is why they started distributing a few kegs to this area before they even expanded beyond the greater Chicago area. I had this on tap a while back, but I've only recently started seeing cans of their infamous Daisy Cutter recently.
Daisy Cutter is just a lowly pale ale, but it's got a pretty rabid following, to the point where folks used to propose all sorts of absurd trades with the stuff. I get the impression that that sorta douchery has subsided a bit, but then, I just saw someone asking for Kern River Citra and listing this as a potential trade, so maybe not (though it looks like there's plenty of more reasonable trades being offered these days too). Is this beer really a midwest wale? Probably not, but it's still pretty damn good.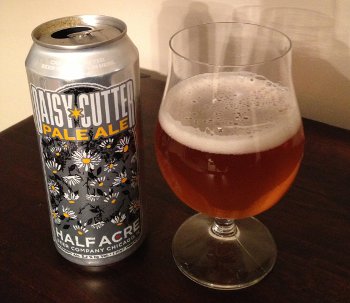 Half Acre Daisy Cutter Pale Ale – Pours a clear golden color with a finger of white head that leaves plenty of lacing as I drink. Smells of dank, piney, resinous hops, with some citrus and floral notes for good measure. Taste goes more in the floral direction than the nose, but that dank pine is still prominent with some citrus tagging along too. Nice, well matched bitterness in the finish. Mouthfeel is well carbonated, light to medium bodied, darn easy to drink. Overall, this is some great stuff for a regular ol' pale ale from Chicago. B+
Beer Nerd Details: 5.2% ABV canned (16 oz. tallboy). Drank out of a tulip glass on 1/27/13.
As pale ales go, this is a pretty solid choice, definitely something I'll get again sometime, and if Half Acre continues to distribute around here, I'll hopefully be able to snag some of their other releases.