Philly Beer Week is generally an occasion for special releases, brewery openings, and collaborations. The Brotherly Suds team of Philly area brewers always puts something interesting together, but the past two years have also seen a Belgo-Philly connection. There's a contest of sorts in which a lucky raffle winner picks a local brewer to go on a trip to Belgium and collaborate on an official Philly Beer Week brew. 2012's entry was a collaboration between Iron Hill and Brasserie Dupont, and it was quite nice.
What we have here today is the 2011 Belgo-Philly collaboration between De Proef and Sly Fox, Broederlijke Liefde (which means Brotherly Love in Dutch). It's a 37 IBU saison fermented with traditional yeast, then dosed with Brettanomyces for good measure. This bottle's a year and a half old, so it may be showing its age, but Brett beers tend to evolve interestingly over time, so let's see how this sucker is holding up: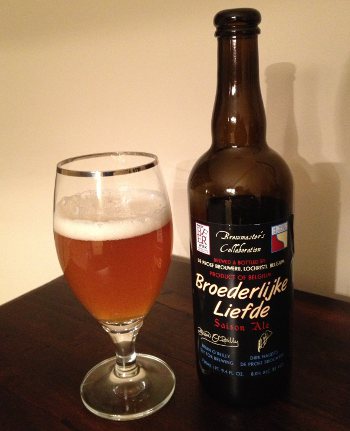 De Proef and Sly Fox Broederlijke Liefde – Pours a cloudy bright golden orange color with a finger or two of fluffy white head, lots of lacing, great retention. Smells heavily of funk, earthy and fruity, maybe a little spice too. Taste is sweet and spicy, some bright fruit, relatively light on the funky Brett character, but it's there and it works. Mouthfeel is well carbonated and spicy, drying out towards the finish. Easy to drink, slight warming from alcohol, but nothing unpleasant. Overall, this is a really solid funky beer. Perhaps not in the running for best evar, but it's certainly worth a try if you can still find it. B+
Beer Nerd Details: 8% ABV bottled (750 ml caged and corked). Drank out of a goblet on 1/5/13. IBU: 37. Hops: Target and Styrian Golding.
I wish I sprang for some of this stuff back in 2011, just to see what it was like fresh. In any case, this year's collaboration was just announced, with Chris Wilson from Weyerbacher heading to Belgium to brew a beer at Brasserie de la Senne. No news yet as to what they'll be brewing, but I can pretty much guarantee that you'll be reading about it here sometime in the June timeframe.