The tale of this beer begins back at Stillwater's first anniversary, when they made a Belgian Strong Dark in the mold of a foreign export stout. That beer was called 25 To One, and has since been tweaked a bit, renamed Folklore, and moved into Stillwater's regular lineup. In addition, this is one of the base beers for their barrel aging program, and several different versions have been made. What I have here is a beer aged in 20 year old Pappy Van Winkle barrels. Only 1200 bottles made, a steep price tag, and a gorgeous minimalist label, but alas, I found myself a little disappointed by the contents of said bottle: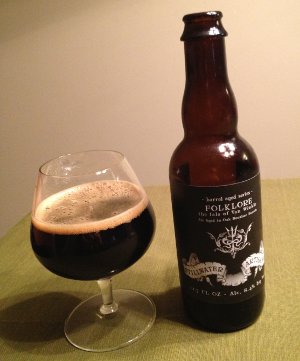 Stillwater Folklore – The Tale Of Van Winkle – Pours a very dark, almost black color with a skimpy, light brown head. Smell is all about bourbon and oak (maybe some coconut from the barrel aging too), with just the faintest hint of roasted malts. Similarly, the taste is comprised mostly of bourbon, with oak falling into the background and whatever roasty smoke character exists is almost completely muted. The bourbon doesn't feel like it'd be overpowering either, but it's really the flavor that is emphasized the most here. Mouthfeel is surprisingly thin for a barrel aged brew, well carbonated, some boozy burn from the bourbon. Overall, while certainly not a bad brew, it's a bit disappointing. Bourbon is the star here, with the base beer contributing little. I like me some bourbon, but this just isn't balanced very well and the base beer doesn't seem to stand up to the barrel aging process very well… B-
Beer Nerd Details: 8.4% ABV bottled (375 ml capped). Drank out of a snifter on 11/24/12.
Opinions on BA and Ratebeer seem to be wildly divergent, but I'm definitely not the only one who thought the bourbon overpowered the base beer. I still like Stillwater quite a bit, and some of their other barrel aged beers seem to have a better reputation, so I'll be keeping my eye out for those.