Last year, due to lack of fortitude and brewing capacity (mostly the brewing capacity), Lagunitas decided not to make their traditional winter beer, called Brown Shugga'. It's a big beer and it takes a long time to brew and their expansion was delayed last year, not to mention the issues with fortitude. So they placed their tongue firmly in cheek and released an American IPA called Lagunitas Sucks Holiday Ale: Brown Shugga Substitute. We loved Laginitas Sucks here at Kaedrin HQ, but were saddened that we never got to try Brown Shugga. Happily, it seems that Lagunitas has resolved their fortitude issues from last year (and, uh, installed additional brewing capacity), so I can finally get my first taste of this popular winter beer.
As the story goes, Lagunitas was attempting to make a barleywine and must have realized that the gravity was coming in too low. In an attempt to salvage the brew, they threw in copious amounts of brown sugar, hence the name of the beer. The result… wasn't the barleywine they wanted, but it turned out to be a tasty beast its own right and quickly developed a devoted following. In terms of style, this thing is shunted into that vague American Strong Ale designation… It's basically a dark reddish amber beer with a big hop bill and a robust, manly 9.9% ABV. Sounds pretty great to me, let's do this thing: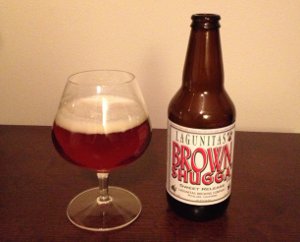 Lagunitas Brown Shugga' – Pours a clear, bright amber color with a finger of whitish head and plenty of lacing as I drink. The smell has a big sugary sweet, piney hop character to it that matches together rather well. The taste seems strangely subdued, though certainly quite appealing. That brown sugar flavor definitely peeks it's head in the door, but doesn't really overwhelm. Ditto for the hops, who have shown up at the party too, but seem like a bunch of insecure little wallflowers. This might sound harsh or negative, but I really don't mean it that way, as it's surprisingly well balanced. There's booze hanging around too, though that's not particularly unwelcome at a party like this. Mouthfeel is quite nice, smooth, heavier than I was expecting, but easy enough to drink. A little boozy, definitely some warming factor. Overall, I'm enjoying this, but quite frankly, I think I might actually enjoy Lagunitas Sucks more. It's a party, but not one of those legendary events that will be enshrined for all eternity. Just a regular ol' Friday night at chez Kaedrin. B+
Beer Nerd Details: 9.9% ABV bottled (12 oz). Drank out of a snifter on 11/30/12.
So there you have it. Lagunitas Sucks is making a comeback earlier in the year. I think both these brews are worth your while, but I do think I prefer Sucks. In any case, I'm sure Lagunitas will be making more appearances on the blog in the future…