At some point, I resolved to get my hands on more Cigar City beers, and they do distribute to this area… but their offerings have been scarce of late. I have no idea why, but when I saw this one about a month ago, I quickly bought it, not realizing that it was from last year! It's a big, dark beer, so it should be able to hold up to the time, but it's also got a big hop component which I'm assuming I lost out on a bit. In any case, this beer officially kicks off the Christmas beer season. Here at Kaedrin, we take these things seriously, so expect to see a boatload of other wintery themed beers in the near future. This particular offering falls into the "make it stronger" school of holiday beer thought (with maybe a bit of "do whatever the hell you want", just for good measure.) The label sez it's a mashup of barleywines and old ale winter-warmer styles, but with a big citrusy American hop presence. They call it a Floridian Winter Ale: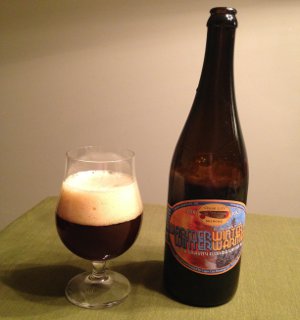 Cigar City Warmer Winter Winter Warmer – Pours a very deep, dark amber brown color with a solid 3 fingers of fluffy head, good retention, and plenty of lacing. Smells full of caramel and citrusy, piney hops. Taste is very sweet, dominated by rich caramel, brown sugar, and toffee tones. Big citrus and pine hop flavors lighten things up a bit, but those sugary caramel/toffee flavors rule the day. Mouthfeel is full bodied, rich, and chewy, but very well carbonated, which really helps cut all the rich flavors a bit. That being said, there's a lot of mouth coating here, and a finish that lingers. Fortunately, these flavors are all right up my alley, so it works well enough in the end. The booze is well hidden in the taste, but you get that warming alcohol feeling in the belly soon enough. Overall, this is an interesting beer, along the lines of a barleywine or old ale, but kinda doing its own thing. A whole 750 gets to be a bit much, but I really enjoyed it. B+
Beer Nerd Details: 11% ABV bottled (750 ml capped). Drank out of a tulip glass on 11/23/12. Bottled November 2011 for consumption in 2011/2012.
I still haven't tried a lot of Cigar City's brews, but I'll be sure to snag a few the next time they make their way up here… Anywho, lots of Christmas, holiday, and otherwise wintery offerings coming up in the near future, even including a few deliberately aged brews. Stay tuned!