Let's see here: Limited Release, selectively fermented in one of the only oak union systems in the world, aged in bourbon and new oak barrels for 10 months, fancy-pants packaging in a box, and oh, it's Firestone Walker. If my calculations are correct, my saving throw against purchasing this is a 21. And this die only has 20 sides, people.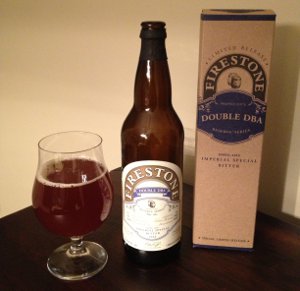 Firestone Walker Double Double Barrel Ale – Pours a deep brown amber color with half a finger of quickly disappearing head. Smells fantastic, plenty of bourbon, vanilla and oak, but not overwhelmingly so. In fact, I'm getting a nice noble hop character out of this, which is quite nice. Taste is filled with sweet, rich caramel, vanilla, toffee, a nice noble hop kick in the middle, and that bourbon oak aging really asserting itself towards the end and into the finish and aftertaste. Mouthfeel is well carbonated and smooth, not exactly dry, but not very sticky either. It's a rich sipping beer, but it's not heavy. A little booze pops in to say hello and warm my belly, but you know, in a pleasant way. Overall, this is a supremely well balanced beer, as I've come to expect from Firestone Walker, and it's got a very nice depth of flavor, enhanced significantly by well blended barrel aging. Superb, but not quite as impeccable as Sucaba, Parabola (which I appear to have underrated), or XV Anniversary… I feel like I'm grading on a curve here, but let's give it a strong A-
Beer Nerd Details: 12% ABV bottled (22 oz bomber). Drank out of a tulip on 11/17/12. Bottled on: 6/14/12.
It looks like this is actually a concentrated version of Firestone's "flagship" Double Barrel Ale (a sessionable English Pale ale), which I've oddly never seen before. If I didn't know better, I'd have pegged Union Jack as their flagship. Anyways, I've been chomping at the bit to get me some Firestone XVI Anniversary ale (saving throw: 30 on a 4 sided die), but it does not appear to have shown up here yet. Local beermonger seems to think they're coming soon though. Firestone Walker is a force to reckon with. Really looking forward to trying some Velvet Merkin next year too.