Well, I think we all just need to get used to the fact that Tired Hands Brewing Company is going to be showing up on this blog pretty often. These folks are just flat out killing it right now. Everything I've had from them has been solid, and they just keep going.
Lately, they've been getting into the spirit of the season with a series of monster-inspired beers. There's Ghost, a compulsively drinkable Gose-style beer (how's that for obscure?), Vampire, an IPA made with oranges and fancy New Zealand/American hops (that I'm sad to say I missed out on, along with most of these "monster" beers), Goblin, Werewolf, Creature, Black Lagoon, and of course, Creature From The Black Lagoon (which is a black and tan consisting of the two previous beers). Oh, and Zombie, the subject of today's review. An 11% Double India Black Ale (or American Black Ale, or Cascadian Dark Ale, or whatever you want to call the damn thing) brewed with local wildflower honey and dry-hopped twice. Hopped with Simcoe, Centennial, and Nelson Sauvin. Well sign me up: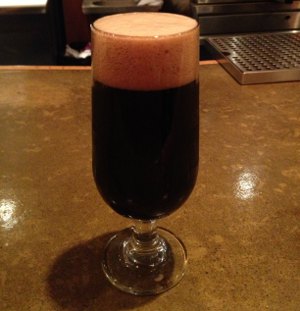 Tired Hands Zombie – Pours a very dark brown color with a couple fingers of light brown head. Smells of big citrus and pine hop notes. Taste starts with a big chocolaty, roasted malt note, then those bright citrus flavors from the hops kick in, with some pine followed by surprisingly well matched bitterness in finish. Very little booze, very well balanced flavors that make this feel like a distinct beer (rather than something that feels more like a stout or IPA). Mouthfeel is medium bodied and surprisingly easy to drink, solid carbonation, mild warming from the booze (and because I'm drinking quickly). Overall, great beer, well balanced, complex, delicious. A-
Beer Nerd Details: 11% ABV on tap. Drank out of a wine glass on 11/4/12. Hops: Simcoe, Centennial, and Nelson Sauvin.
I really hope this is something that they continue to make… I suppose this is one of the drawbacks to tiny, brewpub style breweries. They make so much stuff that you're never sure when something you love will return. While I certainly won't be able to keep up with the brews coming out of Tired Hands (heck, I can't even keep up with reviews for all the things I've had), I think I'm still going to have fun trying. You'll definitely be seeing more from these folks in the coming months.