According to the collective wisdom of a bunch of (probably inexperienced, disinterested, hype-driven, haters-gonna-hate hipster1) strangers, this is the second-best Scotch Ale2 in the world. Score one for the home team. I'm sure no one in Scotland knows how to make these things. Incidentally, the number one beer is… a barrel aged version of Alesmith Wee Heavy. Of course it is!3</sup
So it seems that Alesmith's got the style all locked up… though it's not like this is one of them trendy styles that every brewer is pouncing on. Or drinkers for that matter. I mean, I get a nice vibe from the style, but I've only reviewed 3 of them in the past two years (and one of those was a barrel aged version of another), though I will say that Dieu Du Ciel's Équinoxe Du Printemps was a superb beer, even if I probably wouldn't have pegged it as a Wee Heavy in a blind tasting. So let's see how Alesmith fares: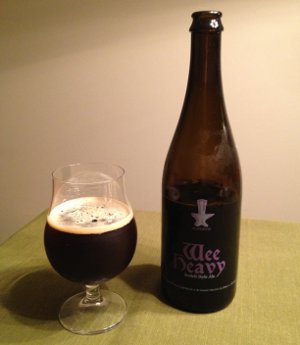 Alesmith Wee Heavy – Pours a deep, dark brown color with a finger of tan head. Smells of rich, sweet caramel along with some malty fruitiness. Taste is very sweet, less caramel and more toast than in the nose (but both are present here), maybe a hint of smoke (perhaps even peat?), and some booze in the finish. Less of that dark fruit than the nose as well, though it's still peeking through. It's not bitter, but it's got enough oomph to balance out the big malt character. Mouthfeel is tightly carbonated, creamy, full bodied, a bit boozy (nice warming sensation in my belly from that alcohol), very slight stickiness. Overall, this is a very nice, well balanced, traditional Scotch ale, on the upper end of a B+
Beer Nerd Details: 10% ABV bottled (750 ml capped). Drank out of a tulip glass on 11/3/12.
So Dieu Du Ciel remains my standard bearer, but this one comes in a close second. Alesmith continues to impress, and while this doesn't make me want to explore every Wee Heavy I can get my hands on, it does make me want to explore more Alesmith beer. Go me.
1 – I am, of course, just kidding, but sometimes it's hard to take reviewers on these sites seriously. On the other hand, who am I kidding? I have a blog with hundreds of reviews of varying quality and I'd still consider myself inexperienced. So fiddlesticks. Wait, what? Am I still typing? Dammit, stop.
2 – Also known as Wee Heavy, a phrase I pedantically dissected a while back. You're welcome.
3 – This might sound sarcastic or snarky, but I'm so in the bag for barrel aged stuff that I wrote this with the utmost sincerity and didn't realize that the tone might be interpreted in another way until I reread the post, hence this footnote. I guess what I'm trying to say here is that if you have one of these things, we should set up a trade or something.