These Tired Hands guys continue to turn heads in the area. They've only been around since June, but I'll be damned if they don't seem to be getting better every month. Here's the rather lamely named Flavor Aroma, a big IPA made with Motueka, Nelson, Zythos, Cascade, Centennial and Simcoe hops. They put this stuff on tap on November 11 and sold through 4.5 kegs that night alone (which is an awful lot considering that they only make 12 keg batches). I'm glad I managed to get my hands on this stuff.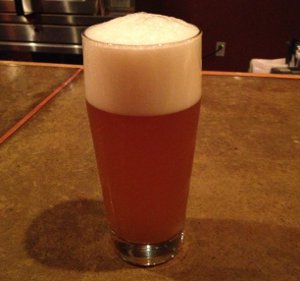 Tired Hands Flavor Aroma – Pours a cloudy golden orangish color with a few fingers of fluffy white head, tons of lacing and great retention. Smells utterly amazing, boatloads of resinous pine, with citrus and floral aromas taking over. Taste is also dominated by those hops, same profile of resinous pine, citrus and floral notes, with a perfectly matched bitterness in the finish. Speaking of perfection, the mouthfeel is superb. Just the right amount of tightly bubbled carbonation, crisp, refreshing, amazingly quaffable. This thing went down dangerously quick. Overall, fantastic beer, perhaps my favorite tired hands brew yet! A
Beer Nerd Details: 7.5% ABV on tap. Drank out of a pint glass on 11/13/12.
I will not be able to keep up with reviewing all of the Tired Hands brews that I consume. They're just a hop and skip away, so I will most likely be visiting often. I recently partook in some Westy 13, their monster "dark saison" clocking in at 13% ABV (rumors of bottles of this are abound, am hoping to snag some). It felt like a Belgian Old Ale kinda thing, sorta like Bruery's Anniversary beers without the barrel aging. Yum.