The full name of this beer is actually Weyerbacher Whiskey Barrel Aged Ale Aged in Whiskey Barrels. Believe it or not, there's a good reason for this seeming redundancy, though it requires some explanation. First, this beer is part of Weyerbacher's Brewers' Select series – a progression of "one-off and experimental brews to encourage creativity and collaboration between all of our brewers." This is sorta reminiscent of Tröegs' Scratch Series, the idea being that Weyerbacher gets to play around with tiny pilot batches using new techniques and strange ingredients in the hopes that the process will lead to new year-round offerings or improvements to same. A new brew is made every few months, then released at the brewery itself with the occasional keg being sent out to local bars.
Each beer in the series is named to follow the NATO phonetic alphabet (Alpha, Bravo, Charlie, etc…), and this 23rd installment was naturally going to be Whiskey. Apparently getting beer labels approved by the feds is a tricky proposition even in the best of times, and in this case, naming a beer after another alcoholic beverage added an extra wrinkle. But it turns out that the law allows for a "fanciful name" as long as you include a "Statement of Process" or some such thing. Thus we end up with a name "Whiskey Barrel Aged" with a statement of process "Ale Aged in Whiskey Barrels", all of which indicates that this is, in fact, beer, not whiskey. Or something. Did I say there was a "good" reason for this? Yeah, that's not really true, I guess, but none of this buffoonery should be attributed to Weyerbacher.
So the base beer here is a 9% ABV Brown ale, made with six malts and aged in bourbon barrels. I thought I had missed out on this beer forever, but fortune smiled upon me this past Friday when the Side Bar tapped a keg of the stuff: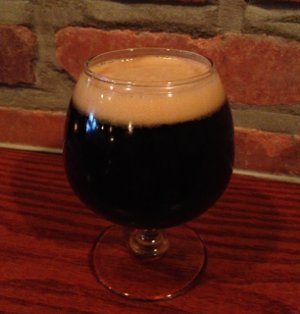 Weyerbacher Whiskey Barrel Aged – Pours a very dark brown (almost black) color, with a finger of khaki colored head. Some light whiskey in the nose, along with some almost fruity notes. As I drink, a pleasant oak and vanilla character emerges too. Taste has a prominent whiskey component, but not overpowering the more typical nutty, toasty notes of the base brown ale. Again, oak and vanilla come out as I drink, and there's a hint of those fruity malt flavors too. Mouthfeel is full bodied and rich, but not overly thick or chewy… Really well balanced, just big enough to keep it interesting, but not overwhelming or face melting. No real booziness to speak of, despite the whiskey character. Overall, this might be one of my fave Weyerbacher beers ever. Fantastic, well balanced, complex stuff. A
Beer Nerd Details: 9% ABV on tap. Drank out of a snifter on 10/5/12. 27 IBU.
I'm usually very happy to try one-off brews, but I'm rarely sad that I don't get to drink more. This is among the few, the proud, the ones I want to see again. Weyerbacher hasn't technically ruled that out, but it still seems unlikely. In any case, I'm definitely going to be on the lookout for X-Ray (and, for that matter, Yankee and Zulu). No idea what Weyerbacher plans to do once they reach the end of the alphabet. NATO digits are kinda boring, except for niner, but you could also go with some of the British or U.S. phonetic alphabets (lots of overlap with Nato, but some cool stuff there too).