I'd eyed this saison brewed with rose hips, rose petals, and hibiscus, at the beer store this past summer, but I guess I didn't look close enough, as the fact that it's brewed by Jolly Pumpkin wasn't readily apparent. Luckily for me, Jay had posted about this beer a while back and given it a glowing review, so the next time I saw it, I made sure to snatch it up. I've always enjoyed Jolly Pumpkin's beers, but I have to admit, I've never really been blown away by them. Until now! But first, pedantry:
Apparently this is the first in "a liquid narrative" being told by Jolly Pumpkin founder Ron Jeffries and label artist Adam Forman. As such, this new series of beers (named in honor of French poet Charles Baudelaire) has a different sort of aesthetic when it comes to label design, hence my not recognizing it for what it was (in all honesty, I rather like the label design more than the traditional Jolly Pumpkin style). Forman was also working on a graphic novel as a companion to the beers, but that's "on hold." No biggie, though, cause this is some wonderful beer: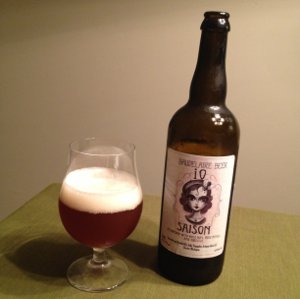 Jolly Pumpkin Baudelaire iO – Pours a cloudy, dark reddish orange color with a couple fingers of pillowy head. Smells strongly of biscuity, spicy Belgian yeast with a healthy dose of Brett funk that almost, but not quite, hits a sour note. The taste starts sweet, with that bready, spicy Belgian yeast character yielding to earthy, funky Brettanomyces in the middle and finish. Maybe a little bit of fruitiness to the taste too (perhaps some floral notes from the rose and hibiscus), not quite sour, but in that wild direction. The mouthfeel is highly carbonated, effervescent, full bodied, and very dry all throughout. Overall, we've got a well balanced, complex, funky beer here that I might have rated even higher had I not just had Logsdon's wonderful Seizoen Bretta. Still, this is fantastic stuff. A-
Beer Nerd Details: 6.8% ABV bottled (750 ml capped). Drank out of a tulip glass on 9/28/12. Batch 1019. Bottled 02-23-2012.
Apparently this was made in pretty limited quantities, but they say they will probably be making it again, so if you like funky saisons, this is a must try for you. I'll probably be seeking out some more Jolly Pumpkin in the meantime, and perhaps some additional entries in the Baudelaire series will make appearances. One can only hope…