After my trip to the homebrew shop last week, I popped down the road to one of my favorite little beer bars in the burbs, Station Taproom. It's a small place, but they've usually got some good stuff on tap, and what to my wondering eyes did appear? Bourbon County Brand Stout, we meet at last. I don't get the impression that this is a super rare beer, but Goose Island only started distributing out here a year or so ago (I think) and I've never actually seen a bottle of this around.
I suppose it should be acknowledged that Goose Island is now owned by the great Satan, AB-InBev, but I've always cared more about what's in the bottle than anything else. As a general principle, Goose Island doesn't get a ton of love from us Kaedrinians, but only because there's just such a massive variety of beer available out there that I don't feel particularly obligated to try their stuff. But by all accounts, this beer is a classic and I've kinda been drooling over the prospect of trying this for a few years now. Apparently Goose Island started making it way back in… 1992? That can't be right. Is it? Holy crap, apparently that's true. Anywho, Goose Island has one of the largest (if not the largest) barrel aging programs in the country, and if those devils at AB-InBev are able to expand that without impacting quality (hardly a sure thing), who am I to complain? Alright, so let's get to it: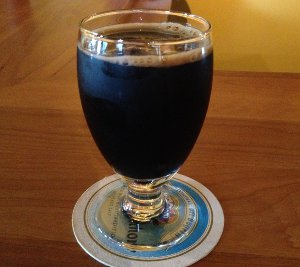 Goose Island Bourbon County Brand Stout – Pours pitch black color with a finger of light brown head. Very thick looking, like old motor oil. Smells strongly of bourbon and oak, with some vanilla and caramel coming out to play too… Taste has a ton of deep sweetness, lots of rich bourbon, caramel, dark chocolate, oak, vanilla, and just a hint of booziness (which is impressive for such a monster beer)… Mouthfeel is rich, creamy, thick and chewy, coating your mouth leaving those complex flavors to linger pleasantly on the palate. A little booziness and alcohol warming, but nothing overwhelming and actually pretty light for a 14.5% beer. It's reasonably well balanced for such a monster. Overall, superb. A
Beer Nerd Details: 14.5% ABV on tap. Drank out of a goblet on 9/27/12.
I'd love to get my hands on some bottles of these, as it's certainly one of the better big barrel aged stouts I've had. I can't say as though I'm going to run out and try other Goose Island beers, but I'll definitely be seeking out anything from the Bourbon County Brand series.