I'm guessing that Hoppin' Frog's graphic artist was on vacation when they were bottling this stuff. Every single other label that Hoppin' Frog makes features that weirdly proportioned cartoon frog, so scrolling down their list of beers, this thing definitely stands out. Maybe that's the point. It certainly caught my eye in the store. I was a little wary of the odd description "Belgian-style Barley Wine-style Ale". I mean, huh? Maybe their copy writer was on vacation too. Reading the full description, it becomes a little more clear. This is a barleywine that's fermented with Belgian and English yeasts, then aged in whiskey barrels. Color me excited: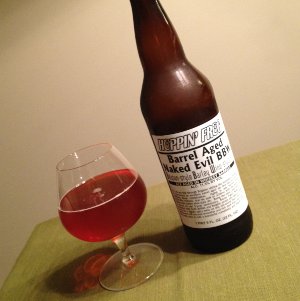 Hoppin' Frog Barrel Aged Naked Evil – Pours a bright, slightly hazy amber color with almost no head at all, just barely a little ring of light colored stuff around the edge of the glass. Smells strongly of fruity malts and booze, some caramel, vanilla, oak, and bourbon. Taste starts with rich caramel, those fruity malts, and tons of boozy bourbon, oak, and vanilla. Mouthfeel is beautiful, surprisingly well carbonated (perhaps that Belgian yeast asserting itself), but still rich and creamy. As it warms, that tight carbonation winds down a bit into more traditional barleywine territory. Indeed, the fruity flavors and depth call to mind a port wine kinda character. Overall, a fantastic take on the style. A-
Beer Nerd Details: 11.3% ABV bottled (22 oz. bomber) Drank out of a snifter on 9/8/12. Batch 2 (black cap).
So at this point, I've had three beers from Hoppin' Frog, and they've all been pretty fantastic. B.O.R.I.S. The Crusher is a fantastic imperial stout, and some sort of IPA that I don't remember the name of (which was very good, though I wasn't really in a position to take notes or pay much attention – sue me). So I guess what I'm saying is, I need to try more stuff from these folks in Akron, Ohio. They might not have a great graphic artist team (though they're far from bad), but they seem to get the stuff inside the bottle right, which is the important part.