I had originally planned to pick up a bottle of regular ol' Stone Ruination to compare with this beer, brewed in honor of the tenth anniversary of Ruination, but I never got around to it and I wanted to make sure I drank this thing fresh. It's been at least a couple years since my last Ruination, but my recollection is that it's hopped to high heaven, with an impressive and intense bitterness. I remember a friend saying something like "They call it Ruination because it will totally ruin your palate!" This was said approvingly, and as the years have gone on, I've certainly become more and more of a hophead. Ruination was one of the defining Douple IPAs of its era, certainly not the first, but one of the most popular. For its tenth anniversary, Stone amped up the strength to a whopping 10.8%… and apparently doubled the amount of hops used in the recipe. Well, I guess I don't need this enamel on my teeth anyway, let's crack this thing open: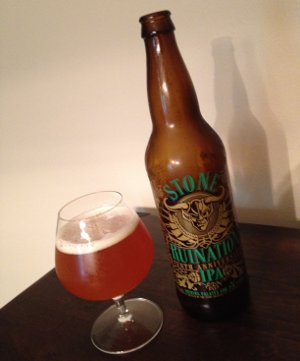 Stone Ruination Tenth Anniversary IPA – Pours a hazy, darkish pale orange color with a finger of tight beaded head that's leaving plenty of lacing as I drink. Smells strongly of juicy, fruity, and floral hops, maybe a hint of pine, and lots of sugary sweetness in the nose too. Taste starts sweet, with a massive blast of hop flavors emerging in the middle and intensifying through the finish, which is quite bitter and surprisingly dry for such a big beer. The hop flavors strike me as having a profile that is unique to Stone – I feel like I could pick this out of a lineup, whereas a lot of other IPAs, even world-class stuff, doesn't feel that distinctive. There's tons of citrus, a little pine, but also something floral and almost spicy that's asserting itself. Again, this flavor profile is something I feel like we get from Stone a lot – Kaedrin friend and beverage compatriot Padraic would call it the "hop it til it's nasty" effect (though I wouldn't say it's nasty, I rather like it). Mouthfeel is medium bodied, amply but tightly carbonated, and surprisingly dry for such a huge beer (it's not super-dry or anything, but I was expecting something boozier and stickier in the finish and was pleasantly surprised at how well this one avoided those pitfalls). Overall, extremely well crafted beer, perhaps a bit too extreme for frequent drinking, but hell, this stuff won't be around much longer, so I may even pick up another. B+
Beer Nerd Details: 10.8% ABV bottled (22 oz. bomber). Drank out of a snifter on 8/10/12.
I can't say as though I loved it as much as the Beer Rover, but it's another solid entry from Stone, as per usual. I still may need to pick up a regular bottle of Ruination at some point and review it, but I'm pretty well overstocked at the moment, so I think it's time to drink down the cellar again. Speaking of whittling stuff down, I'm officially less than 2 weeks behind on my reviews at this point. No danger of running out of things to post about or anything, but for a while, I was over a month behind, which was just silly.