One of the driving forces behind this blog is the wanton violation of the Constitution of the United States. Don't get me wrong, I'm overall a pretty big fan of that document, but Amendment XXI, Section 2 can kiss my ass. It says you can't transport "intoxicating liquors" across state lines. Given the PLCB's ridiculous stance on single bottle sales in PA (i.e. you have to buy full cases1), it's pretty much required for a beer nerd in my area to become a scofflaw. In addition to this, I giddily smuggled beer back to PA on a flight back from Texas last year.
And now I've added another felony to my repertoire: the vaunted beer trade. Jay, from the most excellent Beer Samizdat blog2, proposed a swap of ungettables from the opposite coast. And thus I came into the possession of West Coast rarities the likes of which us East Coasters drool over3. Er, sorry, don't mean to rub it in, but it was exciting. And I'm not sharing.
As it was my first time, I was a little nervous about shipping mishaps4, but fortunately, I had plenty of bubble wrap securely fastened around all the bottles I sent, so no bottle explosions in transit or knocks at the front door by the FBI (I can just picture them now, in their black suits, holding a dripping box, frowning… saying "Is this yours?" while their partner pulls out the hand cuffs). Jay, being more experienced on this front, sent his in a fortress of seemingly indestructible styrofoam. Anywho, this is all by way of saying that you're going to see some reviews of West Coast mind blowers in the near future.
Like this beer, from one of our nation's most amazing breweries, Russian River. It's the first in a line of beers they're calling "The Hop Grower's Tribute Series", and in this case, they're honoring the three farms that grow Simcoe hops. It's named after the location in the experimental hop yard where Simcoe was born, and is it just me, or should there be more than 3 farms growing these prized hops? If the prices for Simcoe at the homebrew shop are any indication, I think there are some farmers that could stand to make a pretty penny by stepping up production.
I've never actually seen a bottle of Pliny or even Blind Pig, but it looks like the label's got the trademark Russian River disclaimers pleading with you to drink the beer as soon as possible, least the hop character fade (as they tend to do with time). "This beer is not meant to be aged! Age your cheese, not the beer inside this bottle! Keep cold, drink fresh, do not age! Consume Fresh, or not at all! Respect hops, consume this beer fresh! Keep away from heat! This beer does not get better with age! Please do not age me!" They won't shut up about it, but then, they're probably right. And in any case, Russian River beers tend not to last long in my house. This stuff was gone just a few short days after I received it: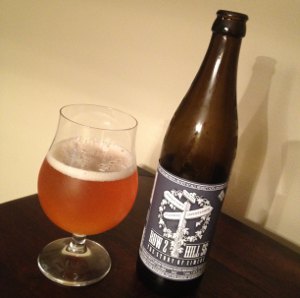 Russian River Row 2/Hill 56 – Pours a bright golden color with a finger of quickly disappearing, fluffy head. Smells of bright grapefruit and a little bit of pine, pure Simcoe gold. The taste is less sweet than I'd expect, with a bracing bitterness that hits quite quickly and intensifies through the taste. Pine comes out more as a flavor here than in the nose, along with a sorta herbalness I associate with Cascades (which makes sense, since Simcoe is descended from Cascade). Mouthfeel is light, smooth, quaffable, but with a pleasant hoppy bite and a nice dry finish. Man, this thing goes down easy. A fantastic summer beer, perfect for quenching thirst after a long day/week in the office. A-
Beer Nerd Details: 5.8% ABV bottled (510 ml). Drank out of a tulip glass on 8/17/12. Bottled on 6/26/12.
At this point, I think I've had everything Russian River has made available in PA (including the likes of Pliny the Younger and a bunch of their mildly rare sours), but it's nice to know that I may be able to get my hands on stuff like this in the future. Thanks Jay!
1 – There is a loophole to the case law that says that restaurants (or some sort of eating establishments) can sell singles, so the case law isn't as annoying as it used to be. I was surprised when I recently walked into a new local place that's purely a bottle shop – I asked the guy working there how he got around the case law, and he pointed to the back of the place. Tucked away in the corner was one of them hot dog machines that rolls the hot dogs. I suspect they don't sell many of those things. Even grocery stores are getting into the act these days, and one local beer distributer seems to just be throwing caution to the wind and selling singles illegally. I say good on them!
2 – I suspect most of my readers are already familiar with Beer Samizdat, but it's an excellent blog and Jay's been posting up a storm of late, so be sure to check it out.
3 – Jay seems pleased with his haul too. I won't spoil the trade, but I'm sure you'll see a few of them show up on his blog in the near future too (like this one)
4 – Definitely illegal to ship via USPS, so third parties it was. Thanks to my lazy habit of never throwing out boxes, I had plenty of bubble wrap laying around (I used at least 3 or 4 different varieties), and did my best. Still, I was a little nervous, but as it turns out, bottles aren't that fragile.