Eco-hippies versus pale ale! This is named after the recently hatched twins of co-owner Daniel Kleban, Madeline & Oliver, shortened to just MO, because syllables suck. It looks like this will be an addition to their regular lineup, a nice complement to their other pale ale, Peeper: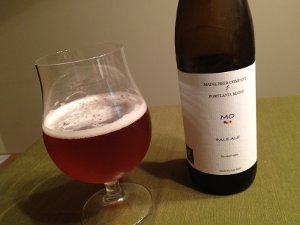 Maine Brewing Co. MO (Madeline & Oliver) Pale Ale – Pours a clear, dark golden color with a finger of white had and lots of lacing as I drink. Holy pine resin aromas, Batman! As I sit here just continually sniffing the glass, the piney smells seem to be rounded out a bit with some citrus. The taste is lightly sweet with a big piney flavor and a very light bitterness in the dry finish. Mouthfeel isn't as light bodied as I'd expect out of something like this, but it goes down pretty easy. Overall, a fantastic pale ale. B+
Beer Nerd Details: 6% ABV bottled (500 ml). Drank out of a tulip glass on 7/21/12. Bottle sez: 062612 (presumably the bottling date). Hops: Warrior, Falconer's Flight, Simcoe.
Maine continues to be a solid, interesting choice. I'll probably pick up anything new that I see from them… I don't have one right now, but up next will most likely be Lunch, their IPA.