One of the beers I didn't get to try during the Hill Farmstead event during Philly Beer Week was the Citra Single Hop Pale Ale. As luck would have it, Hill Farmstead had another event at the same bar a few weeks later. This time, things were far less hectic, and one of the beers available was the Double Citra IPA… which has to be, like, twice as good as the regular ol' Citra Pale, right?
Funny thing about this beer: I've had it before. I didn't realize it until I started drinking, but something in the depths of my brain flashed recognition or something, so I looked in one of my old-fangled notes on my phone, and sure enough, I'd hastily tapped in some notes from that initial tasting. The freaky thing is that it appears that my previous tasting occurred exactly 1 year prior to this tasting (maybe a few hours difference, if the timestamp on my image is to be trusted). Now, one might be tempted to think that forgetting to post about this first tasting means that it was a lackluster beer (i.e. forgettable). But I had rated it an A- back then, and I'm pleased to see that the old tasting notes pretty closely matched these new ones. I won't claim to have a particularly attuned palate, but I'm apparently somewhat consistent.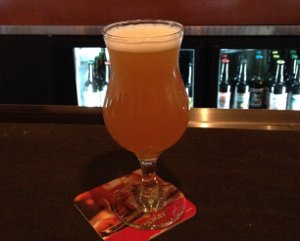 Hill Farmstead Double Citra IPA – Pours a cloudy yellowish color with a finger of white head… Smell is pure pine and citrus, very… Sniffable. I feel kinda dumb doing so in public, but it seems worth it. Taste is very sweet, lots of that pine flavor giving way to light citrusy fruit hops as the taste moves into a light, well balanced bitterness in the finish. Mouthfeel is medium bodied, tightly carbonated, and goes down real easy. Ok, this is superb. A-
Beer Nerd Details: 8% ABV on tap. Drank out of a tulip glass on 6/30/12.
Hill Farmstead has quickly ascended to the highest possible level of respect here at Kaedrin. I've pretty much resolved to buy as much of their beer as possible whenever I see it. Alas, I don't think I've ever seen a bottle of the stuff, and even kegs don't make their way down here that often. Hopefully that will change soon. Otherwise, I'll have to make the 9 hour trek to Vermont. Might even be worth it.