What's with the rash* of Joseph Conrad references in beer names? First came the beer I'm reviewing, Ommegang's Belgian Strong Dark Ale, Art of Darkness (despite all their wizardly references to spellbinding and mystical incantations, we know they're referencing Conrad, right?) Then, more recently, The Bruery released Tart of Darkness, a sour stout aged in barrels. What's next? Clown Shoes making a beer called Fart of Darkness, that's what. Okay, that was a cheap shot, so let's move on…
Ommegang was my first introduction to really good beer (many moons ago), so I'm always on the lookout for new beers from them. However, one of the weird things about Ommegang is just how fantastic their core stable of beers is. In contrast to most other breweries, their core lineup is pretty much all great beers (with a potential exception in the recently added BPA). Oddly, their one-off limited-edition brews tend to be a bit on the underwhelming side. This isn't to say that they're bad, just that they're not as transcendent as, say, Three Philosophers. A few of the limited edition brews have struck a nerve though, notably Gnomegang and Tripel Perfection, so I feel like my compulsion to try their new stuff is not unwarranted. So here we go: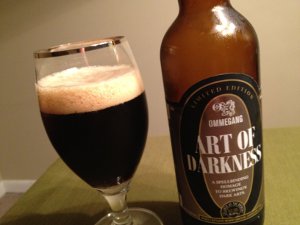 Ommegang Art of Darkness – Pours a very dark brown color with plenty of dark tan head. Smells of bready Belgian yeast. A little spiciness apparent, but also something lighter, almost fruity. Taste is sweet, some dark malt character, but not much in the way of roast. Plenty of yeasty spiciness though, and the sweetness gives way in the dry finish. Mouthfeel is medium bodied but highly carbonated, almost effervescent, and relatively dry, making this go down easy. No indication of booze at all, which is interesting given the ABV. Overall, very nice, well balanced beer! B+
Beer Nerd Details: 8.9% ABV bottled (750 ml caged and corked). Drank out of a goblet on 6/9/12. Bottled on 02/27/12. Best by 02/2015.
So where does this fit in? I'd say, towards the top of Ommegang's limited edition brews, if not quite the pinnacle. Quite enjoyable though, and well worth a try. Up next from Ommegang, a rather old limited edition brew I've been squirreling away in the basement for, sheesh, has it been two years? We'll see. And I've been seeing this Biere D'Hougoumont all over the place too, and I'm betting I'll get me a bottle of the stuff at some point.
* As recently established, it only takes two examples to constitute a "rash" of something.