Full Pint brewing, out of Pittsburgh, PA (or close enough), is only a couple years old at this point, but they seem to be making a name for themselves, at least here in the semi-local market. I'm sure starting a brewery incurs a massive cost at the start, but it looks like these fellas scavenged one John Harvard's abandoned brewpubs for their brewing system. Harvard's is apparently still around, but they appear to have retreated from the PA market. I've had many a Harvard's beer back in my fledgling beer nerd days (back towards the hazy college years), and have never been particularly impressed, so I'm guessing Full Pint is putting this equipment to much better use these days than it ever got when it was new… There should be a name for this type of brewery that's resurrected old brewing equipment. Zombie brewery, perhaps? (Apparently Full Pint is working on a new year-round dark beer called Night of the Living Stout, which is quite appropriate!)
Alright, let's see here, ah, Rye Rebellion is an "imperial stout brewed with four different types of rye and aged in rye whiskey barrels". You had me at "imperial" (then you really had me at "whisky"):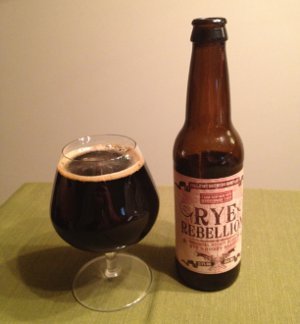 Full Pint Rye Rebellion – Pours a deep black color with minimal head and no real lacing. Smells strongly of roasted malts, with some of that sweet rye/bourbon character tickling at my nose… Starts off with a rich caramel chocolate malt character, followed by a bit of that roasted malt (maybe a little coffee) and finally, the rye/bourbon comes out to play towards the finish. The roasted coffee flavor seems to linger a bit in the aftertaste. But it's all pretty well balanced, actually, and there's a difference between this and a lot of other bourbon barrel stouts (perhaps because of the rye). Mouthfeel is full bodied, chewy and heavy, but still very smooth, with relatively low carbonation (but enough to make it drinkable). Very little booze character here, I'd have a hard time placing the ABV as high as it is… Overall, it's quite a nice beer, distinct from a lot of its competition and really hitting the spot right now. A-
Beer Nerd Details: It turns out, they did this part for me. From the bottle: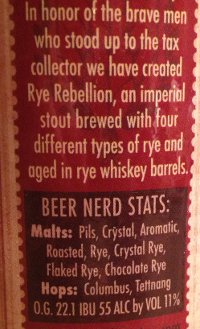 Drank out of a snifter on 5/18/12.
Quite a first impression! I'll now have to seek out some of their other brews (Chinookie IPA seems to be a popular one, and I will of course be on the look out for that Night of the Living Stout)…