Despite the fact that the IPA style seems to be my most reviewed style on the blog, I do find that you need to strike a bit of a balance with drinking them. At the extremes – drinking only IPAs all the time or barely drinking any – the style seems to get a bit… samey. But if you find the right balance, they can be a revelation. One of things that I've found most interesting about IPAs is drinking two of them back to back (I find diminishing returns after two though). This gives you an opportunity to compare and contrast, and if you choose your beers right, you can discover a huge variation in the style. So here we have two Founders IPAs, one their basic, year round Centennial, and the other being their souped up Double IPA. In some ways, this isn't really fair, as DIPAs generally pack in a lot more flavor, but it's still an instructive exercise.
Of course the point of these posts is to pair beer with movies, and in this case I took in a Walter Matthau double feature: Charley Varrick and Hopscotch. Both are fun little 70s and early 80s flicks about things like crooks and spies. Neither really blew me away, but I had a blast with my IPAs and viewing material…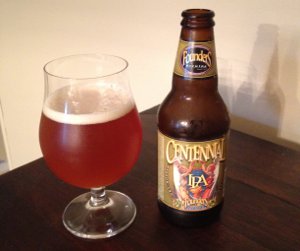 Founders Centennial IPA – Pours a cloudy orangish color with a finger of whitish head and plenty of lacing. The smell is filled with floral hops, maybe some sweet citrus too. The taste starts sweet, with some of that citrus character giving way to more pungent, spicy, and floral hop flavors, followed by a nice bitter bite in the finish. Mouthfeel is great, medium bodied, a little bit of a bite to it, but well carbonated. Overall, a very well crafted IPA. Unfortunately, Centennial hops don't seem to jive that well with me, at least in this formulation. I like this beer, but it's not my preferred IPA… B
Beer Nerd Details: 7.2% ABV bottled (12 oz.) Drank out of a tulip glass on 5/11/12.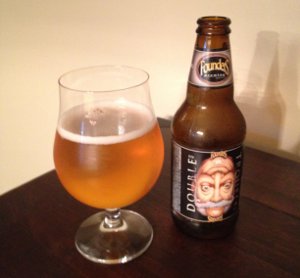 Founders Double Trouble IPA – Pours a golden yellow color, lighter and a little more clear than the Centennial, with a finger of white head and plenty of lacing. Smells strongly of sweet hops, a ton of grapefruit character. At this point, I'm guessing Simcoe hops. Taste starts off sweet with an immediate bitter balance, both of which intensify through the middle, finishing with a little bit of extra bitter dryness. The mouthfeel is medium bodied with plenty of tight carbonation, and maybe just a hint of booziness. Overall, very nice, better than average double IPA, though not quite best in class. B+
Beer Nerd Details: 9.4% ABV bottled (12 oz.) Drank out of a tulip glass on 5/11/12.
As usual, Founders doesn't disappoint… and there's still quite a few of their beers that I haven't yet tried either. Nothing else in the immediate pipeline, but I'm sure we'll get our hands on some more of their beers at some point…