Okay, I give up. We can discuss the merits and demerits of style definitions all day, we can even devise new ways to evaluate styles, but I defy anyone to make sense of the "Saison" style of beer. I do believe it's the least coherent style in the history of beer. Ostensibly a rustic, farmhouse beer, there are many classics of the style, starting with Saison Dupont, which I've come to think of as it's own subclass of saisons. Sweet and spicy, it's pretty much what I look for in a saison. But then you've got another class of saisons that are lighter and dryer, your Cellar Doors or Jack D'Ors. Then are the earthy, Brett dosed beers, a la Saison Rue. If that represented most beers that were labeled saison, I think we'd be in good shape, but then Fantôme has to explode the entire notion of the style by making super tart, even sour examples of the style. Sometimes you'll get a saison that's in the 3-4% ABV range, sometimes you get one around 10%, and anywhere inbetween.
But even after all that, there is at least one commonality between all these sub-styles: a pale color. Well fuck that. It turns out that there are a number of dark saisons too. Shit. Basically, if you pick up a beer labeled saison, you can look forward to something with anywhere from 3-10% ABV, pale to dark color, sweet and spicy to earthy and roasty or what the hell, maybe even (intentionally) sour.
On the other hand, I'm rarely disappointed by Saisons, even when they're not what I expected, and they're a pretty versatile beer, working in a great number of situations. Need something light and fluffy for summer drinkin? A saison will do ya. Need something to pair with food? Saisons, especially dry saisons, are actually a pretty good fit. Want to blow your mind? Pick up one of the higher ABV saisons. Need a sessionable lawnmower beer? Pick up one of the lower ABV varieties (these are relatively rare, but it seems to be a popular homebrew choice).
Anyways, here's my first dark saison, and like everything I've had from Stillwater, it's pretty darn good. It also marks a rash* of Phillip K. Dick inspired brews, also including the Grassroots/Tired Hands Do Saisons Dream Of Electric Yeast?** Fortunately, drinking this beer didn't inspire any paranoia… except about the saison style definition, I guess.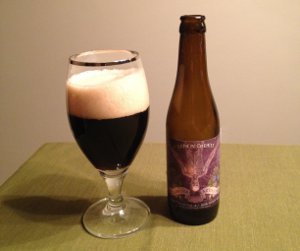 Stillwater A Saison Darkly – Pours a very dark brown color with tons of khaki coloed head and visible sediment at the bottom of the glass. When held up to the light, you can see beautiful ruby red highlights. Smells strongly of musty Belgian yeast, tons of spice and a little fruit too. Taste is sweet, with lots of spiciness and some very nicely balanced roasted malt notes. Mouthfeel is full bodied with a highly carbonated, spicy bite, and a somewhat dry finish. An interesting take on the saison style, this one grows on me the more I drink. B+
Beer Nerd Details: 8% ABV bottled (11.2 oz) Drank out of a goblet on 5/12/12.
I've always liked Stillwater, but they're emerging as a go-to brewery for me these days. And there are tons of brews I haven't sampled yet either… Nothing in the immediate pipeline, but you'll definitely be seeing more of their stuff on the blog.
* Two beers counts as a rash, right?
** But don't worry, there's plenty of PKD available for the taking. The Märzen in the High Castle, The Three Hop Rhizomes of Palmer Eldritch (oh, oh, The Tripel Stigmata of Palmer Eldrich!), Flow My Beers, the Policeman Said, The Fermentation of Timothy Archer, and probably tons of others.