I think the reason I have a high opinion of Brewdog stems wholly from this beer. It happens to be a collaboration with Gypsy brewer extraordinaire Mikkeller, which probably has a lot to do with it, but except for one curious case, I've had a very positive experience with Brewdog beers. This one was a revelation though, and might be my favorite from either brewer. I wasn't a big barleywine guy at the time, nor was I particularly well versed in barrel aged beers, so this one was a big turning point for me. Unfortunately, they've only made two batches of the stuff, one in 2009 and one in 2010. I managed to get my hands on one of each last year, and they've been aging in my cellar ever since. I do hope they get together again and make something like that 2009 version, because it truly is sublime.
Anyway, I cracked these beauties open recently whilst taking in a pair of documentaries about filmmaking. Waking Sleeping Beauty tells the story of the animation renaissance at Disney from 1984 until 1994. Reasonably interesting stuff, though the story isn't quite as compelling as the origins of Pixar (which, actually, is rather intertwined with the general Disney renaissance). The other documentary I watched covered a decidedly different type of film. Machete Maidens Unleashed! covers the "untold story" of exploitation filmmaking in the Philippines in the 60s and 70s. It was completely unintentional, but this documentary actually covers the making of the movies I watched whilst drinking Devine Rebel the first time… Speaking of which: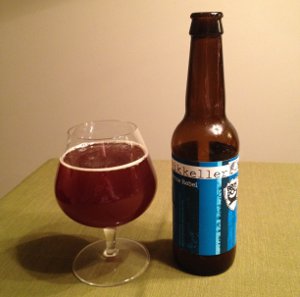 Brewdog and Mikkeller Devine Rebel (2009) – To recap, this beer is fermented with both ale and champagne yeast, features a single hop (which I believe is that fabled Kiwi hop, Nelson Sauvin), and is partially aged in Speyside whisky barrels… It pours a deep, dark brownish amber color with minimal head. Smells strongly of fruity malts, with plenty of well matched Scotch aromas. Taste is sweet, lots of rich malt character, some fruitiness (maybe raisins), and a bit of that barrel aged vanilla and oak Scotchiness. Mouthfeel is rich and creamy, very smooth, but with enough carbonation that it never gets cloying. There's a little booze character too this, and I feel like I can taste the age of the beer, but it's still damn good. Well balanced, complex, unique. Overall, a fantastic beer. A
Beer Nerd Details: 12.1% ABV bottled (12 oz). Drank out of a snifter on 4/27/12. Batch 243, bottled on 7/5/09 (same as the last one I had).
Brewdog and Mikkeller Devine Rebel 2010 – As it turns out, this beer is not quite the same recipe. I think the general idea and process was the same (ale and champagne yeast, Nelson Sauvin hops, and partially aged in old Scotch barrels), but they say: "More malt, more hops, more oak and more alcohol than last year's edition." And indeed, this one is a whopping 13.8% ABV! The appearance is a little more on the brown side, with just a hint of that amber color, and about a finger of head (though it disappeared quite quickly). The aroma is very similar. Sweet fruit aromas (raisins), Scotch, and booze. The taste is much more powerful. Lots of booze. There's a fruity malt character, but the Scotch and booze overwhelmed some of that character. Still lots of complex flavors, but perhaps not as well balanced as the original version. Mouthfeel is a little bigger and fuller. More carbonated, less smooth and creamy, more warming alcohol. Cleary shares DNA with the original Devine Rebel, but quite distinct. Still a good beer, but not quite as perfectly balanced. B+
Beer Nerd Details: 13.8% ABV bottled (12 oz). Drank out of a snifter on 4/27/12. Batch 406, bottled on 11/2/10.
It was an interesting (and intoxicating) night. I would love for them to make some of this stuff again, but who knows if that's on the horizon. In the meantime, I'm going to have to make do with another of their collaborations, called I Hardcore You, which is actually a blend of Mikkeller's I Beat yoU and Brewdog's Hardcore (which, incidentally, I reviewed in a double feature post of their own a while back!)