For the most part, I drink all sorts of different beer styles at all different times of the year. But there is a certain seasonality that also comes into play too. Darker, stronger beers in winter, lighter, crisper, more refreshing beers for summer. Fall and Spring are a little more odd though. Fall has a big seasonal component with harvest ales and standard pumpkin and Oktoberfest beers, but Spring seems more open. For whatever reason, I tend to think of Spring (maybe late-winter) as Barleywine time. I have no idea why, it just feels… right.
But yeah, who am I kidding? Barleywines are always good!
I've heard a lot about Schlafly brewing (from St Louis, MO), but this is actually my first beer from them. Despite the 2008 vintage, I had only purchased this recently, so I was really curious to see if it held up (this may be the oldest beer I've ever had)… Then again, I would have also liked to compare it to a fresher variety.
Also, I didn't realize when I bought this that it didn't have any bourbon at all. I just saw oak aged and assumed bourbon was involved… until I cracked the bottle open and tasted it. I was looking for that bourbon flavor, but I couldn't find it. Then I looked at the description on the box a little closer and realized my mistake. Interestingly, reviewers on Beer Advocate frequently mention bourbon. Perhaps something resembles that in fresher vintages, but I didn't get anything like that here. Fortunately, the beer has a ton of flavor already, and that oak does add its own complexity, all by itself: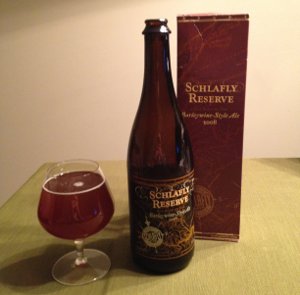 Schlafly Reserve Barleywine Style Ale 2008 – Pours a very nice, thick, dark copper color with minimal head. Smells strongly of caramel and vanilla, maybe a little oak notes too. Some fruity hops are present too, but they're subtle. As it warms, that fruitiness intensifies, throwing out raisiny notes. The taste prominently features that strong caramel malt flavor along with some fruitiness and vanilla/oak notes, especially in the finish. The age has definitely contributed to a certain complexity of flavor here, and as it warms, the fruity raisin flavors become even more prominent. Unfortunately, I don't know how well that age has treated the mouthfeel, which I find to be just a bit undercarbonated. This isn't really a flaw and it's still got enough carbonation to make this an excellent beer, but I find myself wishing for just a hint more carbonation. Again, I suspect this is more due to the age of the beer than anything else, and I do wonder what a 2010 or 2011 vintage would be like right now. Then again, this seems like less of an issue as the beer warms up a bit. Overall, this is still a wonderful beer, and I'm really glad I got to try some, even of this older vintage. B+
Beer Nerd Details: 10.2% ABV bottled (750 ml capped). Drank out of a snifter on 3/29/12.
A very nice first impression for Schlafly, and I've got a bottle of 2008 Bourbon Barrel Aged Imperial Stout burning a whole in my fridge right now (perhaps I may open it later tonight!)