The Firestone Union was formed a few years ago when overworked, beer-soaked employees rose up against their tyrannical masters, Adam Firestone and David Walker. Ok, just kidding, the Firestone Union is actually a unique (in the US at least) way of fermenting beer. As it turns out, the beer I'm talking about today also has another unique component, which is that it is a blend of several other batches. This post got a bit out of hand, so stay frosty, plenty of beer wonkery ahead, but I'll eventually get to a review of the beer…
Modern breweries generally conduct primary fermentation in huge stainless steel tanks. Even "barrel aged" beers are typically fermented in such tanks to start, then go through an extra period of maturation in the barrels. But back in the day, stainless steal tanks weren't available, and brewers would use large oak casks for all steps in the brewing process. This presents a number of problems, namely that you need more fermentation vessels and that wooden casks don't last forever. This constant turnover costs a lot of money, and it also sometimes lead to inconsistent results.
Conducting primary fermentation in oak casks is also a problem because as the yeast multiplies during primary fermentation, it starts to foam up and take up a lot of space, so you need to leave some headroom in the casks (i.e. you can't fill the casks up all the way or else they'd explode), further increasing the cost. Enter the devious and clever brewers in Burton-on-Trent, who devised what's called the Burton Union system in the 1840s. Basically, you set up a series of casks, but instead of leaving headroom and adding an airlock to each casks, you install a series of blowoff pipes that will shunt yeast overflow up to a trough, then (as the yeast settles down) back into the union. This creates a circulation throughout the entire union.
As the industrial revolution marched on, brewers eventually switched to more modern techniques that were cheaper and more easily maintained. However, as we learned more about the brewing process (and especially yeast), scientists noticed that the Burton Union system produced some unique results. Since yeast is alive, it's constantly adapting to its habitat, and the Burton Union system forced this circulating yeast to evolve new characteristics. When breweries started modernizing, many of them lost their distinctive house yeast strains because they were no longer putting their yeast through the same regimen. As far as I can tell, there are only two major brewers in the world that still use a Burton Union system: Marstons (in the UK) and Firestone Walker. The Firestone Union differs in a few ways from traditional Burton Unions in that it generally uses smaller barrels and also because Firestone Walker is actually seeking to impart oak flavors in their beer (traditional Burton beers were not centered around that purpose).
It sounds like a very expensive proposition, and I'm sure the impacts are only really noticeable to the really hardcore beer dorks out there, but I love that brewers like Firestone Walker are out there, creating complex, oak fermented beers via this insanely elaborate system.
But wait, there's more!
While Firestone Walker was built on the concept of barrel-fermented ales, they also do a fair amount of aging, and in 2006, they began a yearly tradition in collaboration with some of their neighboring California winemakers. Basically, the Firestone Walker brewers take an inventory of what they have. Old beers aged on bourbon, brandy, and retired Firestone Union barrels, newer beers still in Union, and some of their non-Union beers. Then they lay it all out along with a shitload of glassware and invite the winemakers in to create a blend of all the Firestone Walker beers. Winemakers are used to blending all their beers and working with barrels, so they're apparently quite comfortable doing this, while at the same time bringing something different and unique to the beer world.
One of the weird things about beer nerds is that you sometimes find folks who have a bit of an inferiority complex when it comes to beer's relationship to wine… and sure, there are lots of restaurants that don't take beer as seriously as they should, but it's really nice to see this sort of collaboration between beer brewers and winemakers.
XV is the sixth time they've done this, and was released last fall. It consisted of a blend of 8 different beers from 197 oak barrels. The bottle also comes in a fancy scmancy box, inside of which is a sheet explaining the entire program and listing out all the components and processes that went into the beer. Gotta love a beer that comes with reading materials! Per the sheet, here's the breakdown:
18% Helldorado (11.7% ABV) Blonde Barley Wine. Aged in Bourbon and Brandy Barrels.
17% Sticky Monkey (12.5% ABV) English Barley Wine. Aged in Bourbon and Brandy Barrels.
17% Bravo (13.5% ABV) Imperial Brown Ale. Aged in Bourbon and Brandy Barrels.
13% Double Double Barrel Ale (11.5% ABV) Double Strength English Pale Ale. Aged 100% in Firestone Union Barrels.
11% Good Foot (14.3 ABV) American Barley Wine. Aged in Bourbon Barrels.
10% Velvet Merkin (8.6% ABV) Traditional Oatmeal Stout. Aged in Bourbon Barrels.
9% Parabola (13% ABV) Russian Imperial Oatmeal Stout. Aged in Bourbon Barrels.
5% Double Jack (9.5% ABV) Double India Pale Ale. Aged in Stainless Steel.
Phew. This apparently works out to 76% Barley Wine style beers, 19% Stout and 5% Imperial IPA, a promising combination to say the least. Alright, enough with the beer wonkery, let's drink this stuff: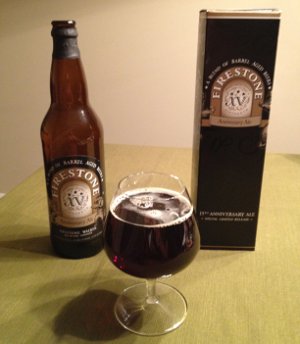 Firestone Walker XV – Anniversary Ale – Pours a clear, deep, dark amber color with beautiful ruby highlights and minimal head. The smell is filled with bourbon, oak, vanilla, caramel, and an almost fruity malt character. Jeeze, I don't really know where to start. This is complex stuff. I can definitely pick out the bourbon and barrel aged notes, and it has a distinct, barleywine-ish character… caramel malts, fruity hops, but there's a lot of other stuff going on here. I can taste a hint of roasted malt in the finish. Hops are present but not super-prominent. It's sweet, but not cloying. It doesn't feel bitter though, which speaks to how well balanced this is… Really, a ton of complex flavors, but nothing overpowers the palate. Mouthfeel is a rich, velvety dream. Smooth, light carbonation, just a hint of stickiness in the finish. It's clearly boozy, but I don't know that I'd have guessed that it's as strong as it is. I wouldn't call it a dry beer, but my guess is that it's well attenuated. Overall, this is a great beer. I wish I bought more! A
Beer Nerd Details: 12.5% ABV bottled (22 oz. bomber in box). Drank out of a snifter glass on 4/6/12.
Well, my love for Firestone Walker continues unabated. This is the best I've had from them yet, but I've got a bottle of §ucaba laying around that probably won't last much longer. A big barley wine aged on bourbon, wine, and retired Firestone Union barrels. Should be amazing. Stay tuned for a few more barrel aged beers this week. I've been making a lot of progress against my cellar, and it looks like I'll have a solid week of barrel aged reviews for you coming up…