Victory celebrated their 15th Anniversary last year, and to mark the occasion, they created a new flagship beer: Headwaters Pale Ale. It was a beer that goes against most "Anniversary Beer" conventions. Namely, it wasn't a high-ABV face-melter that incorporated all sorts of weird ingredients. Instead, it's focus was on highlighting the most unassuming of beer's ingredients: the water. Few would call a 5.1% ABV Pale Ale a very adventurous anniversary beer, but then, this is a beer that has developed into Victory's flagship. It's became so popular and so ubiquitous in this area that Victory actually ran out and had to rearrange their brewing schedule to make up for the demand (so no Old Horizontal this year *sniff*).
But this year, things are a little different. In honor of their 16th year, Victory is making a limited batch of beer in collaboration with famous local chocolatier Éclat. I wouldn't call this a typical anniversary beer, but it's not quite the old standard that Headwaters was either. It's actually quite an unusual beer. Heck, it's a lager. One way to divide the beer world is to separate them into ales and lagers. Lager yeasts ferment at lower temperatures and typically feature cleaner, smoother, more stable flavor profiles. There tends to be less in the way of fruity esters or spicy phenols (which can be very prevalent in ales). There seems to be much less of a focus on lagers in the beer nerd community for some reason, though around this time of year, everyone seems to start cracking open doppelbocks.
In any case Victory Éclat Cocoa Lager is a Euro Dark Lager brewed with Peruvian Pure Nacional cacao beans (apparently quite rare) and is served on nitro tap: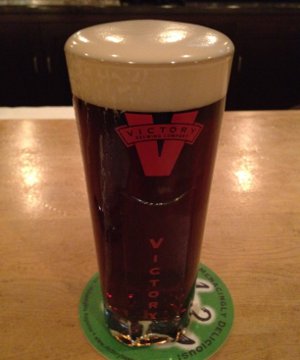 Victory Éclat Cocoa Lager – Dark brown color, beautiful amber highlights, creamy tan head. Smells like chocolate with a hint of roasted barley. Taste has some light chocolate with just a hint of well balanced roastiness emerging in the finish. Lots of flavor, but very well matched and not overpowering at all. Mouthfeel is a dream. Nitro pour makes it incredibly smooth, but this is the perfect mouthfeel for the flavor profile. Medium bodied, clean and smooth, very easy to put down. The muted flavor profile of the lager matches perfectly with the nitro pour. A really fantastic beer… A
Beer Nerd Details: 5.6% ABV on tap (nitro pour). Drank out of Victory's .3L Bar Glass.
I really hope I can get me some more of this before it's gone. Or that it becomes a regular brewpub/local tap akin to their (also pretty good) Donnybrook Stout. Given how well the nitro pour accentuates the beer's flavors, I'm not sure a bottling would work so well (and I doubt the expense of those nitrogen cans would be attractive to Victory at this point).