As I've made abundantly clear last week, I'm at a point in my beer obsession where I don't mind paying a little extra money to try something new and interesting. As a fledgling beer nerd, I had some initial hesitation on that front and I'm still a little suspicious whenever I see a single bottle going for more than $20. But for the most part, I've found those expensive beers worth the stretch. When I first pulled the trigger on a highly priced beer (The Bruery's Coton), the excuse I gave myself was that I was still relatively new to this whole good beer thing and that I was willing to spend a little extra to experiment with new and interesting beers. I suspected that I would grow out of that phase as I became a more seasoned beer nerd, but a couple years later, I'm not sure about that. I think I'm more willing to pull that trigger now than I ever have been before. It helps when the beer is as good as Coton was (I even went back and bought another bottle to age), though there have been times when I've paid through the nose for a beer I didn't particularly care for.
Now, beer pricing is apparently somewhat controversial. Some think that beer is too cheap, some think it too expensive, some think it's cheap because it's "just beer", others note how much effort goes into creating the beer, and yet others want to know more about why they have to pay a premium to get the latest super-duper beer. In the linked post, brewer Tomme Arthur (of The Lost Abby and Port Brewing) left a comment where he mentions:
It's true,our beers have become more expensive, and over the years, we have developed a reputation for beers outside the boundaries. These are what I refer to as flavor driven beers.

Are they expensive? Depends upon what value you place on them. Stephen is obviously a fan and feels compelled to say so. For me, they are not expensive, they are merely priced at a higher point than conventional beer. And I don't believe we make conventional beer.
He mentions a lot of things in his comment, including the cost of materials and ingredients and how barrel aging is a long and expensive process… but none of that really matters.
Look, we're not communists here. We don't determine value by the amount of effort that went into creating the beer. We pay what we're willing to pay to get a beer that tastes good. It's our decision. Some of us might take into account how the beer was brewed (or supporting their local brewer, etc…), but most of us are more interested in the experience of drinking the beer and not the process of brewing it. Now, doing a high gravity, barrel-aged beer represents a significant investment on the part of a brewer, and thus we're going to have to pay more to get our hands on a bottle. I'm not saying that a brewer should take a loss on selling that kind of beer. But the true value of the beer is ultimately determined by the paying customer, not by the brewery. If that value is less than it costs to brew the beer, well I'm betting that particular beer wouldn't likely be brewed again (unless the brewer's got money to burn). The market sorts these things out, and so far, I don't think we've really seen anything too excessive (with the possible exception of retailer gouging, which the brewery has little control over).
Personally, I love that world class beer is generally available to everyone. Even people on a severely limited budget can save up and buy an amazing beer for a small fraction of the cost it would take to explore the world of, say, fine wine or Scotch. And I don't want to lose that either, but if I have to pay a premium to get my bourbon-barrel beer fix, so be it. Speaking of which: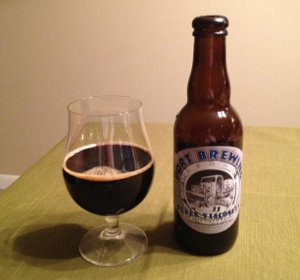 Port Brewing Older Viscosity – I actually reviewed the regular Old Viscosity a while back. I liked it, but was certainly not blown away. As it turns out, the regular version is a blend of 80% "young" beer with 20% bourbon barrel aged beer. That mixture clearly imparted some character to the beer, but I had noted that it seemed more about texture and body than flavor, and even then, it wasn't as full bodied as I would have liked. Well, Older Viscosity is 100% bourbon barrel aged goodness, and I'm happy to report that it was well worth the wait…
Pours a deep black color. Seriously black. Like a black hole, no light can escape it. Also, practically no head at all. Smell is full of bourbon and wood, with some caramel and chocolate aromas making an appearance. Taste is seriously boozy, lots of rich bourbon and oak flavors along with that caramel and vanilla character. Maybe just a hint of bitter roasted malts in the finish. Mouthfeel is thick and chewy, a little low on carbonation, but it works well with this. Overall, I'm enjoying this much more than I enjoyed the plain Old Viscosity… A-
Beer Nerd Details: 12% ABV bottled (375 ml mini-magnum, caged and corked). Drank out of a tulip glass on 1/21/12. Vintage 2011.
So there you have it. For me, definitely worth the premium, and I've got another bottle of the stuff in my cellar which I plan to check out sometime later this year. Or maybe next year. I also have a few Lost Abbey beers down there, at least one of which I plan to get to in the near future. And there's always the Mongo IPA and Shark Attack Red and probably a dozen other Lost Abbey beers I'd like to try.