So we all know of the stories about India Pale Ales – brewers added extra hops to beer so that it could survive the long and arduous trek from England to India. The cape of good hope is located in South Africa and represented a milestone in the trip to India (basically, it's when you begin to travel more eastward than southward).
The confusing thing about this beer, though, is that Yards claims that the IPA stands for Imperial Pale Ale (no India to be found). Weird. Of course, it is typically classified as an Imperial IPA, so there is that. Yards also says that this beer "is an unfiltered, uniquely aged Imperial Pale Ale." Aged? I suppose if you're trying to replicated the historical style, that might be accurate, but it also generally means a less fresh beer, and most hoppy beers in particular do not age all that well. In searching around, it appears that this aging has to do with the longer-than-normal dry hopping period after initial fermentation (upwards of a few months), which should give this a very nice aroma, though perhaps the bitterness will be somewhat toned down by that point.
It's also a very limited batch of beer, only around 100 or so barrels were produced, and the bottling was apparently very limited. They switch up the recipe every year, so it's unlikely that I'll ever see this exact beer again… but the general process seems to stay the same and Yards sez they'll be doing a bigger batch next year. They also say that the beer "is reminiscent of something you'd find solace in on a balmy, Indian evening far away from home. Beware of tigers…" Well ok then: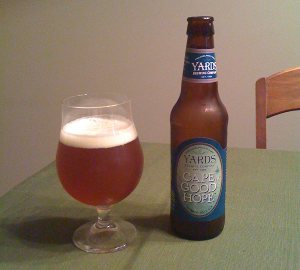 Yards Cape of Good Hope IPA – Pours a slightly hazy golden amber color with a finger of fluffy white head that leaves lots of lacing. Very nice, powerful hoppy aroma, citrus and pine along with some sweetness. Taste is sweet with a light bitterness emerging in the middle and following the taste through the finish (I'm guessing this muted bitterness is indicative of the extra aging). Mouthfeel is really nice, very smooth and dangerously easy to drink given the high alcohol. It's not a revelation, but it's a really good, well balanced take on the double IPA (and certainly much better than Yards's regular IPA). B+
Beer Nerd Details: 8.1% ABV bottled (12 oz.) Drank out of a tulip glass on 9/2/11.
When I started this blog, I wasn't really that big of a fan of Yards, but as I've tried more and more of their beers (at this point, I think I've had most of them), I think I'm definitely coming around. Their Ales of the Revolution series was fantastic, their ESB is especially good on cask, and I really enjoy their Philly Pale Ale. At this point, I think I should probably try their saison again, as I haven't had it in a few years. Perhaps another trip to their tasting room is in order as well – I'd love to get my hands on some Bourbon Barrel Aged Thomas Jefferson's Ale!