There are a number of ways to trick me into buying your beer, and apparently one of them is to barrel-age your beer. In a recent beer run, I think maybe half the beers I bought had some sort of barrel-aging treatment (it was an expensive trip). I guess I'm just a sucker for that sort of thing… but then again, it often works out pretty well for me.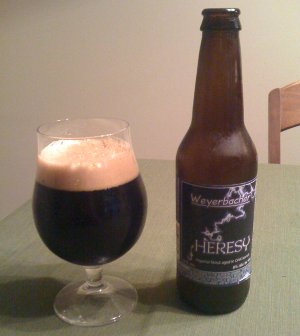 Weyerbacher Heresy – The base for this beer is Weyerbacher's Old Heathen, a pretty middle of the road Imperial Stout, but one I enjoy. This beer is basically a bourbon barrel aged version, and it pours a very dark brown, almost black color with a finger or two of light brown head (no real lacing here). The smell is roasty, with a little bit of that vanilla and oak character. Perhaps some caramel and chocolate flavors in the nose as well… Taste is again, very roasty. Just a little in the way of chocolate and caramel along with the oak and vanilla flavors. You can taste the alcohol as well, but it's well incorporated here, not overpowering anything else. It's reasonably full bodied, but still pretty easy to drink. Overall, I was hoping for a bit more of that oak and bourbon character would show through, but it's still a pretty solid RIS and a slight improvement over the Old Heathen. B+
Beer Nerd Details: 8% ABV bottled (12 oz). Drank out of a tulip glass on 8/27/11.
Weyerbacher is a local brewery (with one of the worst logos ever) that puts out a lot of interesting, experimental, and really big beers. Sometimes these work better than others, but I always find their stuff interesting. Up next for me is their sixteenth anniversary beer, which is a 10.5% Braggot (basically a mixture of mead and beer).