Pale ale! Yeah!* According to Anchor's website, this beer was introduced in 1975 and "Before it became a permanent year-round product, variations of our Liberty Ale formula enjoyed brief tenures as Our Special Ale, available at Christmastime." Huh, I think I'd like to try that. But since that will never happen**, I'll have to settle for the regular Liberty Ale: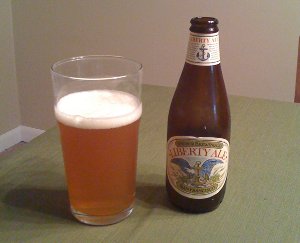 Anchor Liberty Ale – Pours a slightly cloudy golden/orange color with tightly beaded head that leaves lots of lacing. Smells hoppy, a little bit of citrus and maybe even some pine. Taste is sweeter than I was expecting, with just a bit of a hoppy bitter bite in the finish and aftertaste. Mouthfeel is surprisingly strong for a simple pale ale, though it's not a particularly full bodied beer or anything. Overall, it's not one of my favorites, but it's a nice enough brew. B
Beer Nerd Details: 5.9% ABV bottled (12 oz). Drank out of a pint glass on 8/26/11.
* Ok, sorry, but sometimes it's hard to make standard styles like pale ales exciting. Nothing against pale ales, of course. Some of my favorite beers are pale ales.
** Not that I'm bitter.