Summer saison season continues! I've been drinking a lot of saisons this summer1 and even tried my hand at brewing a batch, and some things are becoming clear about the style. Or rather, not clear, as there doesn't seem to be a single unifying element of the style, except perhaps a light color. If I had to describe the style to someone, I'd break it up into two main groups: the sweet and spicy kind, exemplified by Saison Dupont and Hennepin, and the funky2 tart kind that are brewed with Brett, of which Fantôme seems to be the standard bearer. I tend to be more of a fan of the former rather than the latter, though I'm starting to get a bit of a taste for funky beers3. Anyway, I'm catching up on a bunch of old beer reviews that have been sitting, unfinished, in my queue. Here are two saisons of the funky variety: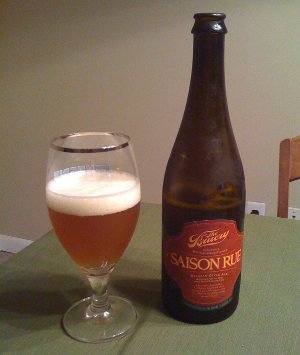 The Bruery Saison Rue – I've only had a few beers from The Bruery before, but they've been uniformly excellent. Pours a cloudy yellowish orange color with an ample white head. Smells of Belgian yeast, some sweet candi, and… is that brett? (Yes, it's apparently brettanomyces. I was not aware of this when I opened it, but it's printed right there on the bottle.) Taste is sweet with a little spice. The slightly tart brett flavor comes out in the finish. It has a kick to it, but not in an overpowering or particularly sour way. Bigger body than I was expecting, but still appropriate for the style . I had no idea this was a Brett beer when I opened the bottle, but it works very well. It's definitely something I'd like to try again sometime, as I hear it has different characteristics when it's fresh. B+ but maybe slightly better than The Bruery's Saison de Lente, which is similar in style (In fact, it's almost too similar – I'd love to see The Bruery's take on a more Dupont-style saison, but C'est la vie).
Beer Nerd Details: 8.5% ABV bottled (750 ml capped). Drank out of a goblet on 6/17/11.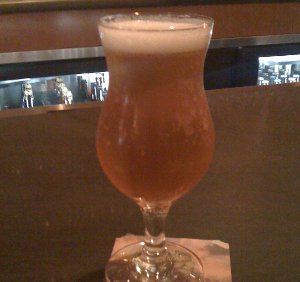 De Ranke Saison De Dottignies – Pours a light golden color with a finger of white head. Smells very funky and twangy. I also got the impression of dark fruits out of the nose, maybe raisins? Taste is again funky and wild with some lingering bitterness in the finish. Mouthfeel is very dry throughout. Light body and relatively low carbonation. This is probably due to the relatively low ABV of 5.5%, which is actually closer to the historical saison style, but it still didn't do much for me. Really, despite the funkiness, not much is going on with this beer. It's certainly not even close to Saison Rue, and it seems to be missing something that would tie it all together. C+
Beer Nerd Details: 5.5% ABV on tap. Drank out of a tulip glass on 6/17/11.
I've had one other De Ranke beer, called Guldenberg, which seems like it could be a really great beer. I say "seems like" because I've had two bottles of the stuff, and both were so super-carbonated that the cap practically popped off the beer along with a jet of foaminess, leading to a beer that ultimately tasted a bit on the flat side. Ultimately, I'd like to find a non-exploding bottle of that to try again, but I don't think I'll be trying their saison again. As for the Bruery, this is not my favorite of their beers, but it's damn good and I will continue to seek out their beers, wherever I can find them!
1 – Actually, looking at my archives, it seems like saisons are a staple of my beer diet, no matter what time of the year. Given that a saison was my real entrance into the world of great beer, I guess that makes sense.
2 – Believe it or not, "funk" is actually an almost technical term for this kind of taste. It's one of the words typically used to describe beers brewed with Brettanomyces, a wild yeast strain often used in sour beers (though I guess it doesn't always equate with sourness, it often accompanies it).
3 – I suppose my two broad categories could be considered too broad. There does seem to be a more historically relevant version of the style which is actually very low ABV, while more modern takes on the style tend to be in the 5-9% range. It's probably possible to break the style down further, or to just say "screw it" and proclaim the style styleless, but I kinda have that instinct for most Belgian beer styles, which all tend to be rather broad ("Belgian Strong Dark" can be used to describe a huge variety of beer).