Scottish brewers Brewdog are no stranger to publicity. It seems they are almost always embroiled in one controversy or another. Right now, they're in hot water over a weird public dispute with CAMRA, a British beer advocacy group that campaigns for "real ale" or ale served from casks (their complicity in the issue is up to debate, but that's not a topic for this post – the linked aleheads article covers the situation well). But in the past, they've seemingly courted controversy with their high alcohol beers, engaging in a race to the highest alcohol beer in the world, which I believe still remains the 55% ABV End of History (and just to ensure publicity, they packaged the limited edition brew in a squirrel carcass).
Hard as it may be to believe, that whole race to 55% ABV started with a 12% stout brewed with jasmine and cranberries and aged on oak chips called Tokyo. That initial release was experimental and never made it to the US, but after some reformulating, a new-and-improved version, now dubbed Tokyo* (they say it's a star, not an asterisk, but it sure looks like an asterisk and it seemingly performs the function of an asterisk, so whatever) was released. This new brew came in at a hefty 18.2% ABV. Both beers seemed to cause controversy in the UK, where newspapers and government officials claimed the high alcohol beer was contributing to a culture of alcohol abuse (or something). Even the beer's tagline "Intergalactic Fantastic Oak Aged Stout" was singled out as an endorsement of psychadelic drugs(?!)
In response to all the kvetching about Tokyo*, Brewdog created a new beer called Nanny State, a 1.1% ABV brewed with massive amounts of hops. They called it an "imperial mild" and apparently it was so low in alcohol that it doesn't legally qualify as beer.
Lots of people see this sort of thing and assume that Brewdog is just a publicity whore that brews gimmicky beers and chases after the "strongest beer in the world" title and I can see how their constant courting of controversy could be grating to some… but ironically, the craftsmanship of their beer often doesn't come up in such discussions, and that's a shame, because I've had nothing but good (even great) experiences with Brewdog beers (granted, I've only had 3 of them before Tokyo* – but all were excellent). In any case, I cracked open a bottle of Tokyo* last Friday and was quite pleased: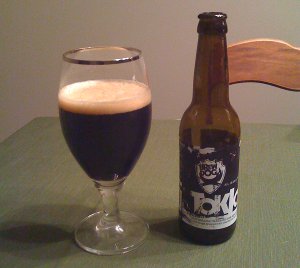 Brewdog Tokyo* – Pours a dark brown color with a finger of tan head. There are some pretty amber highlights when held up to the light. The smell is rich, chocolatey and boozy, with a lot of smaller notes floating around the nose that I assume are due to the cranberries, jasmine, and oak aging. Very complex and pleasant. Taste is full of rich flavors, incredibly sweet (some of that cranberry fruitiness present), with very little in the way of roastiness (though it's still there). The beer certainly has a kick to it, but the finish is very slick, leading into an aftertaste that is a bit strange (but not necessarily unpleasant). Full bodied, nice carbonation in the beginning that yields to that slickness in the finish. You get a very nice warming sensation from the alcohol, which is not really hidden at all, but which isn't entirely overpowering either. Clearly a sipping beer meant to be drank slowly, you may need to be in a certain mood to enjoy it, but I was apparently in such a mood. Despite the 11.2 ounce bottle, it would probably be a nice beer to share as well. I normally drink a few beers in a night, but in this case, I only had the one… Overall, a very interesting, complex beer. I wouldn't call it perfect for me, but don't let the controversy fool you – this isn't a gimmick, it's just a well crafted beer. B+
Beer Nerd Details: 18.2% ABV bottled (11.2 oz). Drank out of a goblet on 7/22/11. The bottle says it's batch 007 and that it's best before 1/15/2021 (I guess that's what high ABV gets you!)
Additional Nerd Details: I searched around a lot to figure out what the deal was with the asterisk in the title. I'm pretty sure it's just used to distinguish between the original batch and the newer, stronger batch, but then I noticed that my bottle is actually labeled "Tokio*" (with an "i" instead of a "y"). It's clearly the same beer as Tokyo* (it's certainly got the same ABV and the label is consistent with everything I know about the beer), but that at some point they must've changed the name to Tokio* (perhaps it was just a batch 007 thing). Searching around the interwebs, I see various explanations for both the asterisk and the "i", but nothing definitive. One explanation that seems plausible to me is the notion that naming your beer after an actual place (Tokyo, Japan) is illegal in some places and required the name change. Or something. Funnily enough, this marks the second time I can't really figure out what the heck is going on with a Brewdog beer name, the other being "Devine Rebel", for which I still can't figure out why Divine is spelled that way. Perhaps an email full of pedantic questions is warranted.
So despite all their publicity stunts, I will continue to seek out and try more Brewdog beers, even the gimmicky ones. Indeed, I even have one of their Paradox stouts (a series of beers aged in various Scotch whiskey casks) sitting on my shelf right now.