One of the frustrating things about reading beer blogs is that people often talk about rare or hard-to-find beers. This isn't really a slight against anyone – as I've grown in my beer nerdery, I've certainly been guilty of this from time to time, and it really is nice when you finally find a beer you've been looking for. So I'm used to seeing this from the beer bloggers out there, but when the brewery itself starts taunting you, well, that's a whole other story.
On the label for Russian River's Consecration, they mention a beer they made for the Toronado's 20th Anniversary (the Toronado is apparently a famous San Diego beer bar):
When we made the Toronado's 20th Anniversary Ale, we had no idea that it would turn out to be one of our favorite barrel aged beers we would ever make. With that said, we have always wanted to make a dark barrel aged beer using 100% cabernet sauvignon barrels, but we never were inspired. That is, until we blended five different beers to make the Tornado beer, the tobacco flavor from the dark malts blended nicely with the fruit character that developed in blending. So, with Consecration we set out to make a barrel aged beer using all Cabernet Sauvignon barrels. Now, we are not saying this is a replica of the T-rooms anniversary beer, after all, a beer like that can never be duplicated, and, there was no fruit added to that beer as there is with this one. All we are saying is that it gave us great inspiration to brew Consecration.
Fortunately, Russian River knows what it's doing, so while I'll probably never get to try that Toronado beer, I do get to have some of the beer it inspired. Consecration is a wild ale brewed with Brettanomyces, then aged in Cabernet Sauvignon barrels with currants added. Sounds pretty spectacular, no?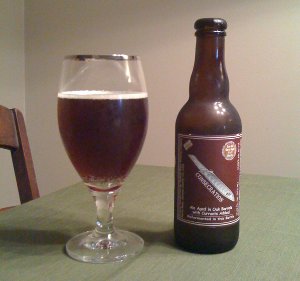 Russian River Consecration – Pours a dark brown color with some hints of amber shining through in the light. Small head that subsided quickly and cleanly. The smell was full of red wine and sweet malts. Tastes starts sweet with an almost immediate sourness that continues through the entire taste and dominates the finish. That quick, puckering escalation in the finish makes for a kinda neat punctuation. The sourness is the most prominent element of the taste, but it's also reasonably well balanced. Unfortunately, I'm not getting a lot of that red wine character in the taste. Carbonation is a little lower than usual, and the body was in a medium-low range (I was kinda hoping for something a little richer in flavor, but that's clearly not what RR is going for here). I don't think this was quite as well executed as Russian River's Temptation, but it's certainly a worthy beer if you're looking for a sour… B+
Beer Nerd Details: 10% ABV bottled (375 ml mini-magnum, caged and corked). Drank out of a goblet on 4/23/11*. According to the label, this bottle was from batch 004X1, brewed on 3/29/2009 and bottled on 2/2/10.
I think Brett beers are supposed to age reasonably well, but I have to wonder how this would have tasted if I got it fresh. In any case, sours still aren't my favorite style, but I'm beginning to come around a bit. I have a bottle of Russian River's famed Supplication in my fridge right now… something I'm hoping to pop open in the near future. I'm expecting a little more out of that beer than the Consecration.
* Yeah, I'm really, really behind on some of my reviews. Wanna fight about it? Expect some more old reviews in the near future as well.