Brasserie Dupont is most famous for setting the bar on the spicy saison style with their famous Saison Dupont, but as I've been chronicling lately on the blog, saisons can vary widely. Looking at Dupont's list of currently brewed beers, I see that they have 8 that are categorized as saisons. I do wonder what it is about saisons that inspires this sort of dedication. Dupont, Fantôme (who have a whopping 20 saisons on their roster), and even the recently discovered Stillwater and Hof Ten Dormaal are all dominated by saisons. In some cases, it seems that the historical farmhouse nature of the style is the inspiration, though Stillwater is still a bit of a mystery…
In any case, since I've had two different Dupont saisons and proclaimed them both super-awesome, I figured I should branch out a bit and check out some of their more obscure brews (provided I could find them). First up: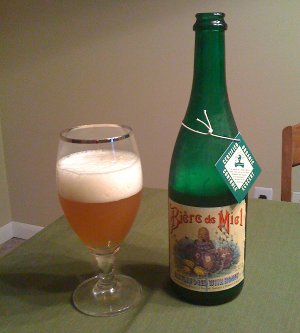 Dupont Bière De Miel Biologique – Apparently one of Dupont's series of "organic" beers (seriously, though, what the hell does "organic" mean in this context? Perhaps another rant for another time…), the name of this beer translates to "beer with honey" and represents a reproduction of a very old recipe. Indeed, they claim the label is an almost exact reproduction of the original label from 75 years ago.
Pours a cloudy golden orange color with visible sediment and tons of head. Smells strongly of honey and typical Belgian yeast (fruity and spicy). Tastes very sweet and spicy with a very dry finish. The honey does add a certain something to the taste, differentiating it from Dupont's famous Saison. Very highly carbonated and a harsh mouthfeel, though it does get smoother as it warms up. Overall, a very good beer, but not up to the standards set by Saison Dupont. Or maybe I just don't care too much for honey. B+
Beer Nerd Details: 8% ABV bottled (750 ml, caged and corked). Drank out of a goblet on 5/28/11.
I wouldn't say I was disappointed by this at all, just that it doesn't live up to the impossibly high standards of Saison Dupoint and Bon Voeux. I will have to find me some more varieties from Dupont though…