We all know the famous stories about how India Pale Ale was brewed extra strong and with extra hops so that it could survive the long and warm trek to India. Slightly less known (though probably common knowledge amongst beer nerds) is the Russian Imperial Stout. Apparently the court of Catherine the Great was quite fond of English stouts, but once again, the logistics of shipping the beer required certain adjustments to the usual recipes. Like the trip to India, the trip to Russia was a long one. And it was cold enough that weak beers would freeze en route. So English brewers took to making an extra strong stout, usually around 10% ABV, to prevent their cargo from freezing (among other preservative reasons to protect against the duration of the trip).
Among craft beer nerds, this style is quite popular. Fully half of the top 10 beers on Beer Advocate are Imperial Stouts. You'll also notice that the term "Imperial" has been appropriated for all sorts of other styles: Imperial IPA, Imperial Pilsner, Imperial Red Ale, and so on. The "imperializing" of traditional beer styles is currently one of the big trends in the American craft beer industry. Ironically, despite originating the style, such beers are rarely seen in England. This is probably due to the way beer is taxed there. Since 1880, English beer taxes are based on the original gravity of the wort (which has a rough correlation with the eventual alcohol content). This has applied pressure to brew weaker and weaker beer. There is, of course, nothing wrong with that, and the English session beers and cask ales certainly have their own merits. But I digress. Let's try one of these Russian Imperial Stouts: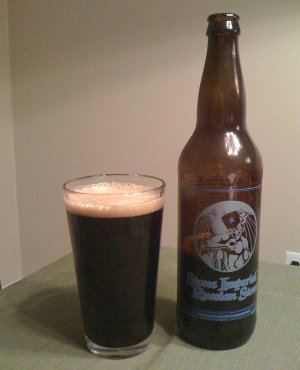 Stone Imperial Russian Stout – Pours a thick, black color with a minimal brown colored head. Smell is full of roasted malt and maybe a little dark chocolate. Taste is extremely well balanced – sweet and roasty with just a hint of bitterness in the finish and aftertaste. Full bodied and ample carbonation, shockingly drinkable given the high ABV. Indeed, the alcohol is almost completely hidden in this. As it warms, I can detect some lingering alcohol slickness in the finish, maybe even some harshness, but this is a welcome complexity. I've mentioned a few times recently that I think I'm beginning to come around on Stouts (a style I traditionally don't care for), and with beers like this, it's easy to see why. A-
Beer Nerd Details: 10.8% ABV bottled (22 oz bomber). Drank out of a tulip glass. Warrior hops, 90 IBUs. Drank on 2/25/11 (I'm almost caught up, I swears!)
More imperial stouts are on the shelf and in the fridge, and I'm actually looking forward to a few of them quite a bit. I don't think that stouts will ever be my favorite style, but I'm definitely gaining a big appreciation for them.