Trappist monks know how to live. At least, the ones that brew beer do. Of course, there are only 7 Trappist breweries (there are many other abbeys that put their name on beers brewed externally, but the Trappists are strict – their beer is brewed on the premises and lead by monks), but their beers are among the best in the world. So these guys spend all their time brewing and drinking world-class beer. On the other hand, I wonder if they ever drink beer from other breweries? Or do they only drink their own? Interestingly, most Trappist breweries have their own internal "House" beer that isn't normally released publicly (and is usually toned down in terms of alcohol), so I get the impression that they don't really seek out the novelty of other beers. Well, I'm certainly not bound by any restrictions, so I've had beers from 4 of the 7 Trappist breweries. They're all fantastic, without exception (ironically, my least favorite might be the most popular – the Chimay Red – but then, even the worst Trappist beer is wonderful), so when I saw a bottle of the La Trappe Quadrupel at the store, I figured it was time to up that to 5 out of 7. I should be able to find some Achel around somewhere, but the real challenge will be Westvleteren, which is only officially sold at the brewery itself (i.e. in Belgium). Westvleteren 12 is currently the top rated beer in the world according to both Beer Advocate and Rate Beer, though I have to wonder if the hoops you have to go through to get your hands on the bottle have anything to do with the high ratings. But I digress.
La Trappe is interesting in that they're the only non-Belgian Trappist brewery in the world. The brewery is offically called Koningshoeven and is located in the Netherlands, and along with Chimay, their beers seem to be among the most widely available of the Trappists. The particular beer I picked up is a Quadrupel. The numeric Belgian beer system is mildly mystifying in that there doesn't seem to be any real rules for what constitutes a Dubbel, a Tripel, or a Quadrupel, except that in terms of alcohol content, each style tends to be stronger than the next (though it's not an exact multiplier – Dubbels tend to be around 8%, Tripels 9% and Quads 10-11+%, with lots of variation inbetween). Interestingly while Dubbels and Quads tend to be dark styles, the Tripel is light colored. I've had a few Quads before, starting with (of course) Ommegang's excellent Three Philosophers (I haven't reviewed this yet, but I have one waiting in the wings) several years ago. In the past year, I've tried a few others (including another Trappist Quad, the Rochefort 10) and I even have a few waiting in my fridge (including St. Bernardus Abt 12, which I'm also greatly looking forward to). For now, we'll have to settle for this one though (and quite frankly, don't expect any double features with Quadrupels, though I suppose the subsequent shenanigans could be amusing to you, if not particularly enjoyable for me).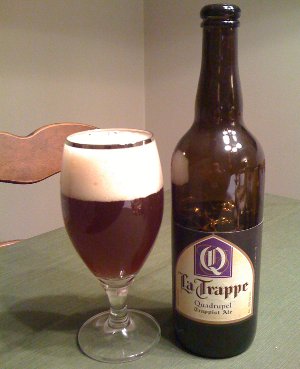 La Trappe Quadrupel – Pours a gorgeous cloudy orange/brown color with a sizable head. Smells fantastic. It has a spicy belgian yeast character with some sweet, dark fruits and maltiness apparent. Taste is very malty and sweet with some dark fruits and spiciness present. A relatively clean finish. The booziness comes out a bit more as it warms up, but the sweetness seems to hide it well. It's got plenty of carbonation and maybe a bit of a harsh mouthfeel, but that's just about right for this beer. It's not quite as full as other Quads I've had, but on the other hand, it's exceptionally good! I had no problem putting down a 750 ml bottle, though I was obviously a bit tipsy by the end. Still, with beers like this, it's not hard to see why Trappists have a great reputation for beer brewing. A
Beer Nerd Details: 10% ABV bottled (750 ml, caged and corked bottle). Drank from a Goblet.
I don't believe I've ever seen an Achel beer in any of the stores I frequent, but I'm going to keep my eye out. Westvleteren will be more of a challenge. But I will eventually try both, thus completing my sampling of Trappist brews. Oh yes.