Yesterday, I made the trek into Philly to see Rare Exports: A Christmas Tale, a Finnish movie that might be the world's greatest homicidal Santa movie (not a highly populated subgenre, to be sure – when your chief competition is Silent Night, Deadly Night, the bar's set pretty low). Anyway, the film let out around 5 pm, and rather than battle the traffic, I headed over to Eulogy for some dinner, and, of course, good beer. After perusing the on-tap list, I noticed something labeled only as "Samichlaus". Say, that sounds kinda like "Santa Claus"! The bartender says that it's an "intense" Doppelbock, very high in alcohol (she also says it's kinda like a Barleywine). I say: Pour me a glass! Ordered some Belgian style mussels and sipped this beer throughout.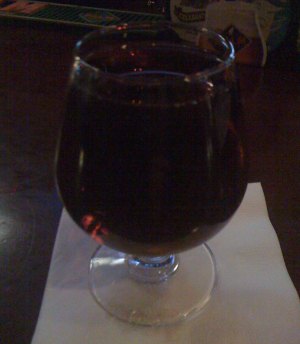 Schloss Eggenberg Samichlaus Bier: This beer is only brewed once a year, on December 6 (for the uninitiated, that's the feast day of Saint Nicholas, hence the name of the beer.) It is then aged for at least 10 months before being released to the public, which means what I was having was probably brewed in 2009. Apparently it was once among the strongest beers in the world, and is even now in the Guinness Book of Records as the strongest lager beer in the world. Coming in at 14% ABV, that's not hard to believe, and it certainly smells and tastes of alcohol. The color is a nice, clear reddish brown. There was no real head on the beer, thus no lacing, and the carbonation was also low. This made for a relatively smooth mouthfeel, though there is a bit of a bite due to the alcohol. There's a distinct syrupy texture going on with this beer, but it's not super sweet or cloying. Taste is complex and boozy. I have to admit that it's not really my favorite style of beer, but it was damn good and indeed, very intense, as promised. I don't know that I'd have it on tap again, but I would love to get me a bottle of this and wait a few years to see how well it ages. B+
Beer Nerd Details: 14% ABV on tap. Drank from a Snifter glass.
I've been to Eulogy before, but it was always so crowded – this time I got there right around opening time, so it wasn't as crazy as usual (it was also only a Wednesday night, so that might also have something to do with it). Nevertheless, I think I'll have to take in some more movies at the Ritz and head over to Eulogy after…